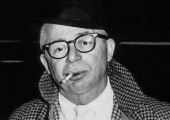 Billy Wilder:
Director, guionista y productor. Nacido en Sucha, Austria (luego Polonia) el 22 de junio de 1906. Creció y se educó en Viena. En 1933 abandonó el cien alemán, y vía París, llegó a Hollywood, donde se instaló como escritor. A partir de 1937, dentro de la Paramount (donde trabajaría largos años) trabajó como guionista en tándem con Charles Brackett. Así surgieron los libretos de Bluebeard's Eighth Wife (1938, La octava mujer de Barba Azul), Midnight (1939, Medianoche), Ninotchka (1939), Hold Back the Dawn (1941, Si no amaneciera); los dos últimos resultaron nominados por la Academia. En tales obras se manifestaba ya la tendencia wilderiana a la sátira y los trazos gruesos. Una vez que Brackett ejerció de productor y Wilder inició su carrera como director, uno y otro mantuvieron su asociación desde estos cargos y en la confección de guiones. Entonces se decantarían más hacia el drama que hacia la comedia, su especialidad anterior. Llevaron a cabo Five Graves to Cairo (Cinco tumbas al Cairo), Double Indemnity (1944, Perdición) -nominado por dirección y libreto-, The Lost Weekend (1945, Días sin huella) -premiado en las mismas categorías anteriores-, A Foreign Affair (1948, Berlín Occidente) -nominado por el guión-, Sunset Boulevard (1950, El crepúsculo de los dioses) -galardonado por el guión y seleccionado como director. Deshecho este dúo, Wilder obtendría nuevas nominaciones como director y guionista y en 1957 quedaría asociado a otro escritor, I.A.L.Diamond, con el que fundó una productora independiente. Diamond no intervino en Witness for the Prosecution (1957, Testigo de cargo) -que comportó una nominación para el director- pero sí en Some Like It Hot (1959, Con faldas y a lo loco) y The Apartment (1960); la Academia premió el guión y la realización del último, tras haber nominado al anterior en las mismas categorías. Con Diamond a su lado, Wilder se escoró casi totalmente a la comedia satírica durante las dos décadas siguientes, y prolongó brillantemente su ácida mirada en torno a las relaciones humanas.
Double Indemnity. Billy Wilder (1944):
[Perdición] This is one of the best films noirs of the 1940's. The Raymond Chandler script is based on teh James M. Cain novel of conspiracy and murder. Fred MacMurray plays an insurance salesman conned into killing the husband of a fetching beauty, played by Barbara Stanwyck, to collect the insurance money. Wilder coaxes dynamite perfomances from the entire cast, ans John Seitz's Oscar-nominated cinematography effectively captures the seedy surroundings associated with the plot. Edward G. Robinson also stands out as MacMurray's boss, who crakcs the case. There's double suspense and triple excitement. Aparecen en papeles secundarios Tom Powers, Porter Hall y Jean Hether. Nominaciones: película, director, actriz, guión (Chandler y Wilder) y fotografía (John Seitz). 107 min.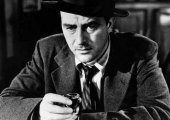 The Lost Weekend. Billy Wilder (1945):
[Días sin huella] Stark, powerful drama about a struggling writer, played by Ray Milland, who has become an alcoholic. Millard gives a striking perfomance, which effectively and sympathetically illuminates his desperate character. Wilder's script (with Charles Brackett) and direction are relentless in providing the details of personal pain, dejection, and terror. Howard Da Silva is exceptional in a supporting role as bartender. Thera are other good perfomances too, from Jane Wyman, Philip Terry, Doris Dowling, and Frank Faylen. Oscars: película, director, actor (Milland) y guión. Nominaciones: fotografía (John F.Seitz). 101 min.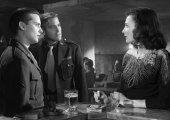 A Foreign Affair. Billy Wilder (1948):
A congressional committee visits occupied Berlin to investigate G.I. morals. Congresswoman Phoebe Frost (Jean Arthur), appalled at widespread evidence of human frailty, hears rumors that cafe singer Erika Von Schluetow (Marlene Dietrich), former mistress of a wanted war criminal, is being "protected" by an American officer. Frost enlists Captain John Pringle (John Lund) to help her find out who he is...not knowing that it is Pringle himself. Pringle romances Frost in order to distract her, but that only increases his problems as she falls in love with him.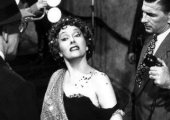 Sunset Boulevard. Billy Wilder (1950):
[El crepúsculo de los dioses] An impoverished screenwriter, played by William Holden, becomes the kept man of an aging movie queen, played by Gloria Swanson, in this memorable drama. The cynical and acid commentary on Hollywood morality highlights the gothic storyline. The baroque details of the setting and plot -the burial of a pet chimpanzee, the empty swiming pool, the gaudy decor of Swanson's home- emphasize the theme of death and decay. A brittle portrait of Hollywood. Fred Clark, Nancy Olson, Buster Keaton, Hedda Hopper, Jack Webb, and Cecil B, De Mille star in supporting roles. Academy Award: Story and screenplay (Charles Brackett, Wilder and D.M.Marsham). Nominations: picture, director, actor, actress, supporting actor (Erich von Stroheim), best supporting actress (Olson), cinematography (John F.Seitz). 110 min.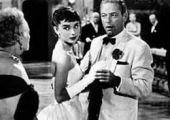 Sabrina. Billy Wilder (1954):
Hepburn is delighful in this excellent comedy about a chauffeur's daughter. She's romanced by Bogart, who plays a middle aged tycoon, and by Holden, who is Bogart's playboy brother. Based on Sabrina Fair, the film makes good use of an ofbeat cast. Wilder also served as producer and screenwriter on the film. Although not one of his most significant efforts is well crafted and entertaining. Academy Award Nominations: Wilder, Samuel Taylor an Ernest Lehman, screenplay; Charles Lang, Jr, cinematography. 113 min.
Witness For the Prosecution. Billy Wilder (1958):
[Testigo de cargo] Clever dialogue, brillant acting by Charles Laughton, and some devious twists and turns in the plot make this an intriguing mystery tale. Marlene Dietrich plays the wife of Power, an alleged killer whom Laughton is hired to defend. Based on a play by Agatha Christie. Like most of Christie's tales, there is inevitably one trick too many, thus lessening any chance an intelligent viewer has to solve the crime. Nominaciones: película, director, actor (Laughton) y actriz secundaria (Elsa Lanchester). 114 min.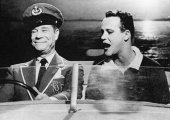 Some Like It Hot. Billy Wilder (1959):
[Con faldas y a lo loco] Lemmon, Curtis, and Monroe form an excellent comic trio in this clever comedy about two unemployed musicians -Lemmon and Curtis- on the run from mobsters after they witness a gangland slaying much like the St. Valentine's Day Massacre. Disguised as women, the two join an all-girl orchestra. Much of the comedy is based on this gender reversal, though Curtis also poses as a wealthy yachtsman, who speaks remarkably like Cary Grant. The trio gets fine support from E.Brown, Joan Shawlee, Pat O'Brien, Nehemiah Persoff, and George E.Stone. George Raft does a takeoff on his coin-tossing gangster role form Scarface. For extra measure, Monroe sings Running Wild, and widemouthed Brown delivers the film's classic clossing line. Oscars: director. Nominaciones: actor (Lemmon), guión (Wilder y Diamond), fotografía (Charles Lang, Jr.). 119 min.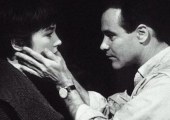 The Apartment. Billy Wilder (1960):
Witty, bittersweet comedy/drama. Bud Baxter (Jack Lemmon) -is a struggling clerk in a huge New York insurance company. He's discovered a quick way to climb the corporate ladder - by lending out his apartment to the executives as a place to take their mistresses. He often has to deal with the aftermath of their visits and one night he's left with a major problem to solve. Lemmon and MacLaine turn in classic perfomances that are unforgettable. Wilder's direction has just the right blend of cynicism, phatos and laughs. Fred MacMurray is superb as Lemmon's philandering boss. Oscars: Película, director, guión. Nominaciones: Actor, actriz y actor secundario (Jack Kruschen). 125 min.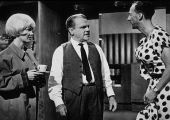 One, Two, Three. Billy Wilder (1961):
Sophisticated, fast-paced comedy set in West Berlin during the cold war. James Cagney is excellent as a CocaCola executive trying to sell his product to the Communists. Complications arise when his boss's visiting daughter falls for a Communists from East Berlin. The invigorating plot offers nonstop satire heavily laced with clever one-liners. Andre Previn's music adds to the merriment. Cagney's last film before 1981's Ragtime. Also stars Horst, Buchholz, Arlene Francis, Pamela Tiffin, Red Buttons, and Lio Pulver. Fue nominada la fotografía de Daniel L.Fapp. 115 min.