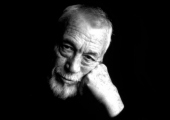 John Huston (1906-1987):
Hijo del actor Walter Huston, debutó en el teatro a los 19 años. Fue contratado por William Wyler para interpretar pequeños papeles en tres películas. En 1938 se trasladó a Hollywood para escribir guiones, y su seriedad y constancia no tardaron en abrirle las puertas de la dirección. En 1941 se le concedió la primera oportunidad con El halcón maltés (1941), que sigue siendo considerada una de las mejores películas policíacas de la historia. Su primer filme de la posguerra, El tesoro de Sierra Madre (1948), tuvo un gran éxito de crítica y ganó dos Oscar: al mejor director y al mejor guión, y su padre el del mejor actor secundario. En 1950 dirigió la que es considerada su mejor película, La jungla de asfalto, un clásico del género negro, con un intrincado manejo de la trama y el ambiente. Con su siguiente película, La roja insignia del valor (1951), cosechó otro éxito de crítica, pero fue un fracaso comercial, y con La reina de Africa (1951) tuvo un resonante triunfo. A partir de entonces cosechó más fracasos que éxitos, y la crítica comenzó a infravalorar hasta sus mejores obras: grandes películas como Moby Dick (1956), Vidas rebeldes (1961) y La noche de la iguana (1964). Pero en los años 70 resurgió como director con la Ciudad Dorada (1972) y la epopeya de Kipling El hombre que pudo reinar (1975). Tras la malévola comedia con subtrama mafiosa El honor de los Prizzi (1985), realizó una memorable despedida con la crepuscular y emotiva película Dublineses (1987), basada en un cuento homónimo de James Joyce. Otras películas Cayo Largo (1948), Moulin Rouge (1952), La burla del diablo (1953), Los que no perdonan (1959), Freud, pasión secreta (1962), Reflejos en un ojo dorado (1967), Paseo por el amor y la muerte (1969), Sangre sabia (1979), Bajo el volcán (1984).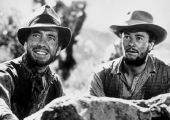 The Treasure of the Sierra Madre. John Huston (1948):
A Hollywood classic with excellent direction and screenwriting by John Huston, superb photography by Ted McCord, and stunning acting by Bogart, Walter Houston and Tim Holt. The three star as prospectors who find gold, but are done in by their own greed. Like many other Huston films, the theme involves the quest for wealth or power, but the fulfillment of that quest results in the characters' destruction or downfall. Walter Huston, John's father, won an Oscar for his portrayal of the eldest prospector, while John won for both writing and direction. Barton MacLane, Bruce Bennett, and Alfonso Bedoya star in suporting roles. Nomination: best picture. 126 min.
The Asphalt Jungle. John Huston (1950):
Compelling crime drama, astutely directed, about a gang of criminals who try to commit the perfect crime. The film envolves as more of a character study than a mystery. Excellent, gritty perfomances by Sterling hayden, Sam Jaffe and James Whitmore. Marylin Monroe has a small part that she handles well. También intervino Louis Calhern. Oscars: director y guión (Ben Maddow y Huston). 112 min.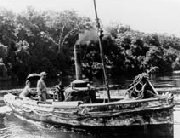 La reina de Africa. John Huston, (1952):
[The African Queen] Basada en la novela de C.S. Forester. Aventurero romance de Rose (K.Hepburn) y Charlie (H.Bogart) huyendo en una barcaza. Peter Viertel, autor de la novela White Hunter, Black Heart y guionista de la película, renunció a que su nombre figurara créditos ante lo que parecía un desastroso rodaje. Había sido enviado a Africa por el productor Sam Spiegel como influencia estabilizadora para el indisciplinado y aventurero Huston, obsesionado en matar un elefante. Katharine Hepburn escribió el libro El rodaje de "La reina de Africa" en el que cuenta que casi todo el equipo enfermó de disentería durante la filmación, a excepción de Bogart y Huston, porque ellos nunca probaron el agua. (Ultramar. Barcelona 1990)
Moby Dick. John Huston (1956):
El gran clásico de Melville da lugar a tres películas. Dos olvidadas producciones Warner, The Sea Beast (1926), dirigida por Millard Webb con John Barrymore, George O'Hara y Mike Donlin, y La fiera del mar (1930), realizada por Lloyd Bacon con John Barrymore y Lloyd Hughes. Y esta producción británica, también distribuida por Warner, escrita por Ray Bradbury y el propio realizador, que se sitúa entre las más conocidas obras de John Huston. La lucha del capitán Ahab con la ballena blanca, que le ha hecho perder una pierna, tiene cierta carga apocalíptica, aunque Gregory Peck no es el protagonista ideal. Destaca la compleja fotografía en Technicolor de Oswald Morris. Con Richard Basehart, Friedrich Ladebur, Leo Genn, Orson Welles. (116 min.)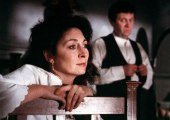 The Dead. John Huston (1987)
John Huston's last film is a labor of love at several levels: an adaptation of perhaps one of the greatest pieces of English-language literature by one of Huston's favorite authors, James Joyce; a love letter to the land of his ancestors and the country where his children grew up; and the chance to work with his screenwriter son Tony and his actress daughter Anjelica. The film is delicate and unhurried, detailing a Christmas dinner at the house of two spinster musician sisters and their niece in turn-of-the-century Ireland, attended by friends and family. Among the visiting attendees are the sisters' nephew Gabriel Conroy and his wife Gretta. The evening's reminiscences bring up melancholy memories for Gretta concerning her first, long-lost love when she was a girl in rural Galway. Her recounting of this tragic love to Gabriel brings him to an epiphany: he learns the difference between mere existence and living. The all-Irish cast and careful period detail give the piece richness and gravity, and Donal McCann and Anjelica Huston are unforgettable as the Conroys. Personajes: Gretta Conroy (Anjelica Huston), Gabriel Conroy (Donal McCann), Mr. Browne (Dan O'Herlihy), Freddy Malins (Donal Donnelly), Aunt Kate(Helena Carroll), Aunt Julia (Cathleen Delany), Mary Jane (Ingrid Craigie), Lily (Rachael Dowling), Mrs. Malins (Marie Kean), Bartell D'Arcy (Frank Patterson). 79 min.