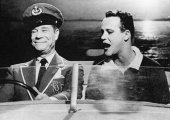 William Wyler (1902-1981):
Director nacido en Mulhouse (Alsacia-Lorena), Francia, el 1 de julio de 1902 y fallecido en Beverly Hills, el 27 de julio de 1981; llegado a EE.UU. en 1920, realizó su primer largometraje en 1926 y obtuvo la ciudadanía norteamericana en 1928. En 1934 se casó con Margaret Sullavan, de la que quedó divorciado al cabo de un par de años. Su carrera ascendió hacia un elevado prestigio mientras colaboraba con el productor Samuel Goldwyn y mostraba un espíritu progresista que le vinculó profesionalmente en diversas ocasiones con la escritora Llian Hellman. Su lenguaje académico logró, coherentemente, un habitual reconocimiento de la Academia, que le nominó doce veces y le concedió la estatuilla en tres de ellas, por Mrs. Miniver (1942, La señora Miniver), The Best Years of Our Lives (1946, Los mejores años de nuestra vida) y Ben-Hur (1959). La comedia Roman Holiday (1953, Vacaciones en Roma) constituyó una rareza durante su mejor época, caracterizada por dramas con tendencia a la claustrofobia como Jezebel (1938, Jezabel), Wuthering Heights (1939, Cumbres borrascosas), The Letter (1940, La carta), The Little Foxes (1941, La loba) y The Heiress (1949, La heredera).
Jezebel. William Wyler (1938):
Bette Davis is sensational in this excellent melodrama abot a southern belle with a knak for manipulating the men in her life. Henry Fonda plays her fiancé. The film is also known for its smart script, stylish direction, and superb photography. Its dramatic power derives for the most part, from Davis' Academy Award-winning perfomance. An excellent supporting cast includes George Brent, Margaret Lindsay, Donald Crisp, Fay Bainter, Spring Bryngton, and Eddie Anderson. Oscars: Davis y Bainter. Nominaciones: Película y guión (Ernest Haller). 104 min.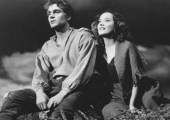 Wuthering Heights. William Wyler (1939):
[Cumbres borrascosas] An excellent cast transforms the classic Victorian novel by Emily Brontë into a memorable motion picture. Laurence Olivier plays the brooding Heathcliff, and Merle Oberon is the spoiled but passionate Cathy. David Niven, Flora Robson, Geraldine Fitzgerald, Donald Crisp, Miles Mander, and Leo G.Carroll also star. Under Wyller's sensitive direction and with a well-written script by Ben Hecht and Charles MacArthur, this great love story is worthy of its reputation as one of Olivier's best films. Oscars: Gregg Toland. Nominaciones: película, director, actor (Olivier), actor secundario (Fitzgerald) y guión (Hecht y MacArthur). 104 min.
The Letter. William Wyler (1940):
In Singapore, Leslie Crosbie (Bette Davis), the wife of the administrator of a plantation field of a rubber company, shoots six times in Geoffrey Hammond.and pleads self-defense to her husband Robert Crosbie (Herbert Marshall) and her lawyer and friend of the family Howard Joyce (James Stephenson). The case seems to be easy and simple, but a letter written by Leslie to Geoffrey and in the hand of the Hammond's widow may sentence Leslie to death by hanging. When the widow decides to sell the letter for US$10,000.00, Howard faces a dilemma between his friendship and his career. 95 min.
Mrs. Miniver. William Wyler (1942):
A highly moving account of courageous British villagers strugling to cope with the hardships and dangers of World War II. The filmis melodramatic, but it's extremely well made, and it served as an effective wartime morale booster. Fine perfomances throughout. Also with Henry Travers, Richar Ney, and Dame May Whitty. Oscars: película, director, actriz (Greer Garson), actriz secundaria (Teresa Wright), guión (George Froeschel, James Hilton, Claudine West, Arthur Wimperis), fotografía (Joseph Ruttenberg). Nominaciones: actor principal (Walter Pidgeon), secundario (Travers) y actriz secundaria (Whitty). 134 min.
The Best Years of Our Lives. William Wyler (1946):
A powerful, provocative film about three GIs who return from World War II to a small American town and face difficulties adjusting to civilian life. Filmaking quality prevails throughout with superior acting, no-nonsense direction, and perfect pacing. There are many touching moments -some amusing, some sad- that capture the mood of post-World War II America. Harold Russell, Virginia Mayo, Cathy O'Donnell, Hoagy Carmichael, Gladys George, and Ray Collins also star. Academy Awards: best picture, best director, best actor (Fredric March), supporting actor (Russell), and screenplay (Robert E.Sherwood). 172 min.
Roman Holiday. William Wyler (1953):
Peck and Hepburn star in this story of a lonely princess who runs away from her official duties, meets a newspaperman, an falls in love with him. This captivating comedy -filmed in Rome- made Hepburn a movie star, and set a fashion trend called the "Hepburn look". Wyler directed from a script by Ian McLellan Hunter and John Dighton. The film also stars Eddie Albert, Hartley Power, and Hancourt Williams. Academy Awards: Hepburn, best actress; Hunter, motion picture story. Nominations: best picture; Wyler, best director; Albert, best supporting actor; Hunter and Dighton, screenpplay; Franz Planer and Henry Alekan, cinematography. 118 min.
The Big Country. William Wyler (1958):
James McKay (Gregory Peck) is a seafaring man who heads west to marry Carroll Baker (Patricia Terrill) , the daughter of rancher Henry Terrill (Charles Bickford). Bickford is currently embroiled in a water-rights feud with covetous Rufus Hannassey (Burl Ives), so both he and his daughter are hoping that Peck can take care of himself. But Peck, who doesn't belief in fisticuffs, appears to be a coward, especially when challenged by Bickford's cocksure foreman Charlton Heston. The far-from-cowardly Peck decides to distance himself from the machismo overload at the Bickford spread, settling for a romance with headstrong schoolmarm Julie Maragon (Jean Simmons), whose water-rich lands are being fought over by the two warring ranchers. When Jean is kidnapped by Ives' no-good son Chuck Connors, Peck decides to take action. 165 min.