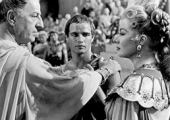 Joseph Leo Mankiewicz (1909-1993):
Nacido en Wilkes-Barre, Pennsylvania, el 11 de febrero de 1909 y fallecido en Bedford, Nueva York (1993). Su estilo se basó en la palabra, con famosos recursos a la voz en off, a los distintos puntos de vista narrativos y a su sucesión de flashbacks guiados por relatos en primera persona. Tuvo cierta tendencia al drama con enfoque psicológico a partir de personajes inteligentes que se expresaban con frases considerablemente creativas. Se inició en Hollywood como guionista (1929). Contratado por la Metro, llegó a ser productor en 1935. En 1943 pasó a la 20th Century Fox. Comenzó a dirigir en 1946. Logró el Oscar como director y guionista por A Letter to Three Wives (1949) y All About Eve (1950). Después obtuvo dos nominaciones como director y otras dos como guionista. Terminado Julius Caesar (1953) fundó su propia productora, Figaro, Inc. y llevó a cabo The Barefoot Contessa 1954).
A Letter to Three Wifes. Joseph L. Mankiewicz (1949):
[Carta a tres esposas] Deborah Bishop (Jeanne Crain), Laura Hollingsway (Linda Darnell) y Ritta Phipps (Ann Sothern) reciben una carta de una amiga común diciendo que se va de la pequeña ciudad donde viven, con el marido de una de ellas. esto da lugar a que cada una recuerde su matrimonio, subrayado por la voz en off de la amiga, y que Mankievicz haga la mejor y más personal de sus películas para 20th Century Fox. Producida por Sol C.Siegel y escrita y dirigida por Mankievicz, encierra una sátira de las costumbres de la clase media de una típica ciudad de provincias norteamericana y una eficaz y personal carga de humor. | Three women receive a letter from a mutual acquaitance that says she has run off with one of her hudsbands, but doesn't reveal which one. The wives react by examining their marriages in a series of flashbacks. There are several ironic revelations, which account for much of the dramatic conflict. A superior achievement from writer/director Mankiewicz. Actores: Kirk Douglas y Paul Douglas. Oscars: Director y guión. Nominada a la mejor película. 102 min.
All About Eve. Joseph L. Mankiewicz (1950):
[Eva al desnudo] Biting backstage comedy/drama about a fading actress (Bette Davis). Brims generously with entertainment values: a witty screenplay, top perfomances by a marvelous cast, and nononsese direction. Davis gives a memorable, bitchy perfomance as the aging Broadway starwho is menaced by an overreacting younger actress (Anne Baxter). One of the best films ever made about the legitimate theater. Oscars: película, director, guión y actor secundario. Nominaciones: Baxter y Davis (principal), y Celeste Holm y Thelma Ritter (secundaria). 138 min.
Julius Caesar. Joseph L. Mankiewicz (1953):
Excellent acting by top-name cast and sumptuous production do justice to Shakespeare's compelling tragedy about conspiracy and revenge in the Roman Empire. Mankiewicz's direction captures the mood of this moment in history as imagined by the geat bard. James Mason, as Brutus, and John Gielgud, as Cassius, stand out in key roles. Brando plays Marc Anthony, and Louis Calhern is Julius Caesar. Also with Greer Garson, Deborah Kerr, Edmond O'Brien, and George Macready. Oscars: película, actor (Joseph Ruttemberg) y fotografía. 121 min.
The Barefoot Contessa. Joseph L. Mankiewicz (1954):
Bogart, Ava Gardner, and Edmond O'Brien star in this handsome tale about the rise and fall of an actress. The film holds ample fascination, yet in somewhat longwinded. The actors fare well with some clever dialogue. O'Brien stands out as a brassy press agent and won the Oscar (supporting actor). Mankiewicz was nominated for story and screenplay. 128 min.