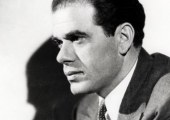 Frank Capra (1897-1991):
Director y productor nacido en Bisaquino, Sicilia, el 18 de mayo de 1897 y fallecido en Hollywood el 3 de septiembre de 1991. Llegado a Los Angeles en 1903, trabajó como guionista y realizador en el cine mudo, y entró, al llegar el sonoro, en la Columbia, para la que trabajaría -en los últimos tiempos, con gran independencia- hasta que en 1939 formó su propia compañía de producción. Después de un dilatado servicio militar durante la guerra, en el curso del cual produjo una famosa serie de documentales (Why We Fight), fundó la Liberty Films con samuel briskin el 10 de abril de 1945 y acogió sucesivamente en esta compañía a William Wyler y George Stevens, pero tuvo que venderla a la Paramount en el ocaso de la década. especialista en la comedia con base en la crítica social y política, tuvo tendencia a tratar la lucha del individuo contra su entorno y en busca de la propia identidad. Y aunque en memorables ocasiones recurrió a milagrosos giros narrativos para cerrar sus films, en el fondo evolucionaba hacia visiones del mundo paulatinamente tétricas y pesimistas, un tanto en choque con su fe en el sistema americano y la capacidad del hombre para vencer a las adversidades. Su estilo constituyó una síntesis del esplendor visual -con muy fluido manejo de los personajes en el encuadre y de la cámara- y potencia verbal -apoyada en sus dotes para los diálogos y la dirección de actores-, y se desencadenó en gags de gran eficacia cómica. Su mejor época comenzó con Lady for a Day (1933, Dama por un día), nominado en cuatro de las cinco categorías principales por la Academia; seguidamente It Happened One Night (1934, Sucedió una noche) consiguió el premio por partida quíntuple en tales apartados. Se le dio de nuevo la estatuilla por la dirección de Mr.Deeds Goes to Town (1936, El secreto de vivir) y del galardonado como mejor film del año You Can't Take It With You (1938, Vive como quieras), obras entre las que situó Lost Horizonts (1937, Horizontes perdidos). Once nominaciones, una de ellas traducida en oscar, saludaron a Mr.Smith Goes to Washington (1939, Caballero sin espada), pero en cambio la Academia se resistió a reconocer Meet John Doe (1941, Juan Nadie) y Arsenic and Old Lace (1944, Arsénico por compasión). Finalizada la contienda, Capra produjo y dirigió la considerada por muchos su obra maestra, It`s a Wonderful Life (1946, Qué bello es vivir), que obtuvo cinco nominaciones, incluidas las de film y dirección. State of the Union cerró en 1948 el apogeo de Capra en la industria y en el arte. John Ford escribiría, mucho después, que Capra era the greatest motion picture director in the world. (Javier Coma)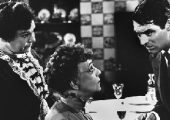 Arsenic and Old Lace. Frank Capra (1942):
Amusing and charming film adaptation of the Broadway play (Joseph Kesselring) about two old ladies who poison gentlemen visitors in their Brooklyn home and then bury them in the cellar. It's a lot of fun despite the concentration of corpses. Mortimer Brewster, a critic of both drama and marriage, has finally married Elaine Harper (Priscilla Lane), the girl next door. Before the honeymoon trip to Niagra Falls they pay a visit to his aunts. Capra pulls out all stops to induce energy and hilarity from the excellent cast (Cary Grant, Josephine Hull and Jean Adair), which also includes Raymond Massey (Jonathan Brewster), Peter Lorre (Dr. Herman Einstein), Edward Everett Horton (Mr.Witherspoon), and James Gleason (Lt.Rooney). 118 min.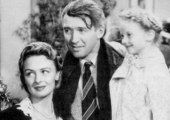 It's a Wonderful Life. Frank Capra (1946)
[Qué bello es vivir] One of the best loved films of all time, Frank Capra's eternal masterpiece "It's A wonderful Life" tells the story of George Bailey who spends his whole life helping others at his own sacrifice and trying to make good in a small town only to feel as though it has all been for nothing. As Christmas draws near his despair only seems to grow as the miserly millionaire causes George more trouble at the bank where he works. On the verge of suicide, George's guardian angel is sent down to show him what life would have been like for all those around him had he not been born. James Stewart ... George Bailey Donna Reed ... Mary Hatch Bailey Lionel Barrymore ... Henry F. Potter Thomas Mitchell ... Uncle Billy Bailey Henry Travers ... Clarence
Mr. Smith Goes to Washington. Frank Capra (1939)
[Caballero sin espada] Frank Capra's classic comedy-drama established James Stewart as a lead actor in one of his finest (and most archetypal) roles. The film opens as a succession of reporters shout into telephones announcing the death of Senator Samuel Foley. Senator Joseph Paine (Claude Rains), the state's senior senator, puts in a call to Governor Hubert "Happy" Hopper (Guy Kibbee) reporting the news. Hopper then calls powerful media magnate Jim Taylor (Edward Arnold), who controls the state -- along with the lawmakers. Taylor orders Hopper to appoint an interim senator to fill out Foley's term; Taylor has proposed a pork barrel bill to finance an unneeded dam at Willet Creek, so he warns Hopper he wants a senator who "can't ask any questions or talk out of turn." After having a number of his appointees rejected, at the suggestion of his children Hopper nominates local hero Jefferson Smith (James Stewart), leader of the state's Boy Rangers group. Smith is an innocent, wide-eyed idealist who quotes Jefferson and Lincoln and idolizes Paine, who had known his crusading editor father. In Washington, after a humiliating introduction to the press corps, Smith threatens to resign, but Paine encourages him to stay and work on a bill for a national boy's camp. With the help of his cynical secretary Clarissa Sanders (Jean Arthur), Smith prepares to introduce his boy's camp bill to the Senate. But when he proposes to build the camp on the Willets Creek site, Taylor and Paine force him to drop the measure. Smith discovers Taylor and Paine want the Willets Creek site for graft and he attempts to expose them, but Paine deflects Smith's charges by accusing Smith of stealing money from the boy rangers. Defeated, Smith is ready to depart Washington, but Saunders, whose patriotic zeal has been renewed by Smith, exhorts him to stay and fight. Smith returns to the Senate chamber and, while Taylor musters the media forces in his state to destroy him, Smith engages in a climactic filibuster to speak his piece: "I've got a few things I want to say to this body. I tried to say them once before and I got stopped colder than a mackerel. Well, I'd like to get them said this time, sir. And as a matter of fact, I'm not gonna leave this body until I do get them said."
Lost Horizon. Frank Capra (1937)
[Horizontes perdidos] Based on the international best-selling novel by James Hilton, Lost Horizon is the story of a group of plane crash survivors who are rescued by the ageless inhabitants of 'Shangri-La', a remote, utopian community hidden away in the Himalayas and presided over by a 200-year-old High Lama! With superb performances by Ronald Colman and Jane Wyatt, extravagant Oscar-winning sets and the direction of legendary filmmaker Frank Capra, this Academy Award-winning classic has stood the test of time to be one of the greatest adventures ever produced from the golden days of Hollywood. Ronald Colman ... Robert 'Bob' Conway Jane Wyatt ... Sondra Bizet Edward Everett Horton ... Alexander P. 'Lovey' Lovett John Howard ... George Conway Thomas Mitchell ... Henry Barnard Margo ... Maria
Mr. Deeds Goes to Town. Frank Capra (1936)
[El secreto de vivir] Is another lighthearted classic Frank Capra screwball romantic-comedy regarding the broader philosophical themes of individual innocence and big-city corruption, and the power of a small-town hero/common man as a citizen in a democracy. The small-town yokel is determined to give his money away in a redistribution plan, to help other people (mostly poor farmers) achieve economic self-sufficiency. The "share-the-wealth" philosophy was certainly gratifying to Depression-Era audiences. The simple plot is a comedy about an innocent, common-sense populist (and tuba player), Longfellow Deeds from Mandrake Falls, Vermont - a newly-made multimillionaire with $20 million, who immediately encounters conflict in the foreign, alien and heartless environment of the city and struggles to maintain his integrity against lunacy, the establishment, and those who try to prevent him from giving away his wealth. A "Cinderella" romance subplot involves a deceitful, hard-edged, and sardonic female newspaper reporter who falls in love with the newly-rich, guileless fortune inheritor while getting an "inside story" and making fun of him in her newspaper. The film received five major Academy Award nominations, including Best Picture, Best Actor (Gary Cooper with his first Oscar nomination), Best Screenplay (Robert Riskin), Best Sound Recording, and Best Director (Frank Capra). Producer/director Capra won his second Oscar as Director for this film, following his initial victory for It Happened One Night (1934) - ultimately he would win three Academy Awards for direction. The film helped make co-star Jean Arthur a prominent leading lady for the rest of the decade and into the 40s - it was the first of her three films for Capra. Much of the film's likability comes from its protagonist, masterfully played by Gary Cooper. It was an unusual pick to cast Cooper in a humorous part, but it was definitely worth the try. He comes across as simple, yet never stupid. Through his bright eyes he carries every emotion on his sleeves, which makes the stark contrast of his greedy environment even more powerful. The dialogues, although funny, always contain a certain common sense truth that we all can't deny. While going through the events of the story, seemingly blue-eyed, Longfellow Deeds learns much about his fellow men, while the viewer learns much about the beauty and simplicity of a content life, far removed from the frenzy and eccentricities of an overly material modern day society. The social commentary is strong in the film's context and in the end, I suppose every viewer wishes he could have as content a life as Longfellow Deeds. A lifestyle that seems even more unattainable today than it was back in 1939, I am sure and as a result is even more attractive. Gary Cooper ... Longfellow Deeds Jean Arthur ... Babe Bennett George Bancroft ... MacWade Lionel Stander ... Cornelius Cobb Douglass Dumbrille ... John Cedar Raymond Walburn ... Walter H.B. Warner ... Judge May