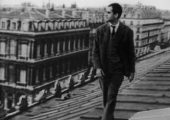 El cine en la década de los 60:
Paris nous appartient. Jacques Rivette (1960):
Anne Goupil is a literature student in Paris in 1957. Her elder brother, Pierre, takes her to a friend's party where the guests include Philip Kaufman, an expatriate American escaping McCarthyism, and Gerard Lenz, a theatre director who arrives with the mysterious woman Terry. The talk at the party is about the apparent suicide of their friend Juan, a Spanish activist who had recently broken up with Terry. Philip warns Anne that the forces that killed Juan will soon do the same to Gerard. Gerard is trying to rehearse Shakespeare's "Pericles", although he has no financial backing. Anne takes a part in the play to help Gerard, and to try to discover why Juan died.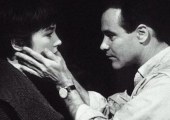 The Apartment. Billy Wilder (1960):
Las relaciones entre C.C.Baxter (Jack Lemmon), el modélico empleado de una gran compañía de seguros que asciende gracias a dejar su apartamento a sus jefes para sus aventuras sentimentales, Jeff Sheldrake (Fred MacMurray), uno de sus jefes, y la ascensorista Frank Kubelik (Shirley MacLaine), que no sólo es la amante de éste, sino el amor platónico de aquél, dan lugar a una divertida comedia que esconde una fuerte crítica de la sociedad norteamericana. Escrita en colaboración con I.A.L.Diamond, producida y dirigida por el vienés Billy Wilder, se trata de uno de los grandes éxitos de su carrera. Destaca el trabajo interpretativo de Shirley MacLaine y Jack Lemmon, en especial en las escenas relacionadas con el intento de suicidio de ella. Bud Baxter is a struggling clerk in a huge New York insurance company. He's discovered a quick way to climb the corporate ladder - by lending out his apartment to the executives as a place to take their mistresses. He often has to deal with the aftermath of their visits and one night he's left with a major problem to solve. Also with Ray Walston. (125 min).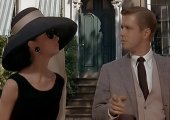 Breakfast at Tiffany's. Blake Edwards (1961):
A stilish and witty film version of Truman Capote´s cosmopolitan story about a New York writer (George Peppard), who has some kooky neighbors, including a daffy playgirl. The lively production is graced with hilarious scenes, memorable perfomances, and colorful characterizations. There's a madcap party sequence that is unforgettable. Audrey Hepburn is charming and funny as the moodish Holly Golightly. Henry Mancini wrote the score, which includes the award winning Moon River. Also with Patricia Neal, Martin Balsam, John McGiver, Buddy Ebsen, and Mickey Rooney. Academy Award: Mancini, best song. Nominations: Hepburn, best actress; George Axelrod, best screenplay based on material from another medium. 115 min.
Lawrence de Arabia. David Lean (1962):
Se inicia un flashback tras la muerte en accidente de moto de T.E.Lawrence, que aborda algunos aspectos de su vida y su compleja psicología. Destinado a El Cairo cuando estalla la Primera Guerra Mundial, es enviado como embajador ante el rey Feisal. Se adhiere a la causa árabe y aplica su estrategia militar en la primera victoria árabe sobre los turcos. Durante una incursión en un poblado ocupado, es torturado y sodomizado, hecho que lo traumatiza y lo lleva a intentar retirarse del ejército. Finalmente se sobrepone y logra la definitiva victoria árabe de Damasco. Con Peter O'Toole, Alec Guinnes, Anthony Quinn y Omar Sharif.
Tom Jones. Tony Richardson (1963):
Abandonado de bebé en misteriosas circunstancias, de joven se enfrenta al desagradable heredro Blifil. Tom se enamora de Sophie, la encantadora hija del irritable caballero Western. Durante una cacería Tom la salva de un caballo desbocado. Una tía solterona pretende arreglar el matrimonio de Sophie con Blifil. Sophie confiesa que está enamorado de Tom y éste tiene que huir a Londres. Blifil le tiende una trampa y es condenado a la horca. Con Albert Finney, Susannah York y Hugh Griffith.
Tystnaden [El silencio]. Igmar Bergman (1963):
Esta sólida obra que en su momento tiene graves dificultades de censura, cierra la llamada trilogía sobre el silencio de Dios, también integrada por Como un espejo (Sasom i en spegal, 1961) y Los comulgantes (Nattrardgästerna, 1962), y es una de las más personales escritas y dirigidas por Igmar Bergman. Narra con una rara fuerza, y una atmósfera heredada del expresionismo alemán de los años veinte, la estancia de en un hotel de las hermanas Ester (Ingrid Thulin) y Anna (Gunnel Lindblom), y Johan (Jörgen Linström), hijo de Anna, que regresan a Suecia. La enfermedad terminal de Ester y los problemas sexuales de Anna, coinciden en el hotel con siete enanos españoles del espectáculo de Eduardini. Two lonely sisters -Ann and Ester- travelling home to Sweden, make a stay in the strange town of Timuku in a fictitious country. The town is full of soldiers, tanks, crowded cafe halls. The sisters, together with Ann's seven-year-old son Johan, are installed in an old hotel with stuffy majestic rooms, deep beds and mile-long corridors. The older, Ester, is a masculine type, intellectual with a lesbian fixation to Ann, a seductive, sex-hungry animal. Instead of caring for her son, Ann is more interested in adventures in the town. Distressed by the antics of her amorous sister, Ester despairs and undertakes to forget her love in alcohol and degredation.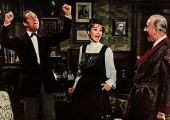 My Fair Lady. George Cukor (1964):
El profesor de fonética Henry Higgins apuesta con un colega que puede hacer pasar a una ignorante florista por una aristócrata. La joven Eliza se instala en la casa del profesor para recibir torturantes clases de dicción contra las que se rebela. Eliza es presentada en una fiesta de una embajada y todos la creen una princesa húngara. Eliza huye de Higgins por su egoísmo e indiferencia y éste trata de obligarla a regresar sin conseguirlo al principio, hasta que tiene que confesar que la necesita. Con Audrey Hepburn, Rex Harrison, Stanley Holloway, Wilfrid Hyde-White y Gladys Cooper.
Bande à Part - Jean-Luc Godard (1964):
Grupo de amigos que forman un trío amoroso que termina trágicamente. Arthur (Claude Brasseur) y Franz (Sami Frey) planean un robo a mano armada en una casa en las afueras. Necesitan la ayuda de la inocente Odile (Anna Karina) y logran convencerla con la promesa de una vida nueva con Arthur. La intervención de la familia delincuente de Arthur, tras el botín del robo, precipita un enfrentamiento armado. También con Danièle Girard (profesora de inglés), Louisa Colpeyn (Madame Victoria), Chantal Darget (tía de Arthur) y Ernest Menzer (tío de Arthur)
Un hombre para la eternidad. Fred Zinnemann (1966):
Durante el reinado de Enrique VIII en Inglaterra. Un honesto abogado y padre de familia, Thomas More, es nombrado canciller tras la muerte del cardenal Wosley. El rey pretende conseguir la aprobación del Acta de Supremacía, documento que lo convierte en Jefe de la Iglesia, independizándole del Papa de Roma, y le permite divorciarse para casarse de nuevo. More se niega a dar su conformidad por razones de conciencia. Su firme decisión le llevan a sufrir una serie de traiciones, prisión y ajusticiamiento por traición. Con Paul Scofield, Robert Shaw, Wendy Hiller, John Hurt y Orson Welles. (120 min.)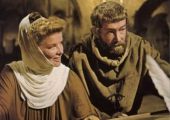 The Lion in Winter. Anthony Harvey (1968):
Fantastic acting by O'Toole and Hepburn adorns this splendid drama set in medieval England. O'Toole is a magnificent Henry II, and Hepburn is tremendous as Eleanor of Aquitaine. They square off on Christmas Eve as the fate of the throne is debated. There are some dry moments, but many highpowered scenes dominate the film. Also with Jane Merrow, John Castle, and Anthony Harvey. Academy Awards: Hepburn, James Goldman (screenplay based on material from another medium). Nominations: picture, director and actor.
Oscars:
1960: El apartamento - Billy Wilder. 1961: West Side Story - Robert Wise y Jerome Robbins. 1962: Lawrence de Arabia - David Lean. 1963: Tom Jones - Tony Richardson. 1964: My Fair Lady - George Cukor. 1965: Sonrisas y lágrimas - Robert Wise. 1966: Un hombre para la eternidad - Fred Zinnemann. 1967: En el calor de la noche - (Mejor director: Mike Nichols - El graduado). 1968: Oliver - Carol Reed. 1969: Cowboy de medianoche - John Schlesinger.