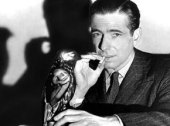 El cine en la década de los 80:
Ordinary People. Robert Redford (1980):
Redford, in first time out as director, fashions a moving, intelligent, but cold film about family conflict as seen through the eyes of a troubled teenage boy. Based on Judith Guest's best-selling novel, this powerful movie examines human behavior with extraordinary sensitivity. Mary Tyler Moore, Donald Sutherland and Timothy Hutton are excellent as members of an ordinary, affluent family who have difficulty, expressing love. Also with Judd Hirsch, M.Emmet Walsh, Elizabeth McGovern, Adam Baldwin, and Dinah Manoff. Academy Awards: Best picture; best director, best supporting actor (Alvin Sargent), best screenplay based on material from another medium. Nominations: Hirsch, best supporting actor; Moore, best actress. 123 min.
Identificazione di una donna. Michelangelo Antonioni (1982):
Very much the film of an elder statesman arrogantly conscious of being the most 'modern' director of his generation. It is a contemporary love story - based upon a film-maker's chance encounters with two women - designed to bury the controversies of his courageous video manifesto (The Oberwald Mystery) and to regain access to Hollywood. Visually this is perhaps Antonioni's most beautiful film to date, effortlessly fleshing out familiar themes around the difficulties of establishing relationships in our times. But there is much more. Most notably, a refreshing irony prevents the hardened art house pundit from wallowing in nostalgia and the metaphysics of 'portentous messages'. Emphasis is very much on the 'investigation' suggested by the title rather than possible meanings to be derived from it. Everything in the film comes in twos: two women from different social and sexual backgrounds, two films about to be made, two extraordinary key sequences - the first enshrouded in thick fog, the other in the desolation of the Venetian lagoon. In the end the central character chooses not to make his film about the 'ideal woman' but to lose himself in a space oddity with skull-like spacecrafts journeying towards the sun. Probably not a sign of Spielbergian things to come from Antonioni - more a subdued admission from the 'apostle of incommunicability' that the best place for alienation these days is in megabuck fantasies.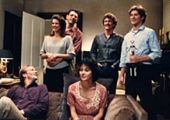 The Big Chill. Lawrence Kasdan ***(1983):
Former college idealist of the 1960s, now complacent and middle-class, gather to unload upon one another at the funeral of a comrade who has inexplicably committed suicide. The ensemble acting by William Hurt, Kevin Kline, Glenn Close, and the others is consistently admirable. Yet the episode story may put off those accustomed to traditional narratives. The ultraslick production values bring the film perilously close to glibness. Tom Berenger, Mary Kay Place, Geff Goldblum, Meg Tilly, and JoBeth Williams give support. Nominations: Best picture, Close (supporting actress), Kasdan and Barbara Benedek (screenplay written directly for the screen). 103 min.
Return of the Jedi. Richard Marquand (1983):
[Star Wars: Episode VI] It is not a movie with a beginning, climax and ending; the film's mechanism operates with only one goal in its mind: bring closure to Lucas' universe. There is an air of finality attached to the whole thing, which makes the film a little too sentimental, but emotionally rewarding. Also, it is a lot of fun. New characters are introduced and old ones face new, unexpected challenges. C3PO and R2D2 provide (as usual) great comic relief. Leia and Solo are a wonderful romantic duo, and Luke is still a great character to identify with. Again, it is Luke's (and Vader's) inner conflict what gives the saga its backbone. Lucas' aggressive imagination is still very much apparent, and the film's themes of loyalty, hope, and redemption resonate strongly. I'm glad Lucas eventually dropped the idea of making episode VII, VIII and IX, because this film is a great bookend to a long, fascinating and captivating saga. Not a perfect movie, but fun in the best matinée style.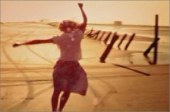 Paris, Texas. Wim Wenders (1984):
Somber but poetic drama about a man who is reunited with his family after a mysterious four-year absence. Wenders invest much tenderness an humanism into this gentle story of ordinary people who fail to communicate their emotions. The climatic reuniting of the estranged family is captivating indeed, but some of the films is slow-moving. Rich, convincing perfomances from Harry Dean Stanton, Dean Stockwell, and Nastassja Kinski. Also with Hunter Carson, Aurore Clement, and Bernhard Wicki. 145 min.
Ladyhawke. Richard Donner (1985):
An appealing, medieval romantic adventure about a pair of lovers under a curse. Hauer is a master swordsman who turns into a wolf by night. His beautiful lady love (Pfeiffer) is a hawk by day. They can never touch one another as humans. Despite some script drawback, the well-crafted film has a splendid aventurous spirit and sophisticated sense of humor. Striking landscapes and colorful period costumes provide an authentic look. Broderick costars as the comic sidekick. 121 min.
Rising Arizona. Joel Coen (1987):
Colourful and unconventional slapstick comedy. Ex-con Hi and ex-cop Ed meet, marry and long for a child in the wilds of Arizona. When Ed discovers she's barren the God-given solution is presented: to snatch a baby from a set of quins. Thus begins a series of kidnappings, capers and rum goings-on that revolve around the helpless yet universally-loveable child. Hi's convict friends, his boss, and even the Lone Biker Of The Apocalypse become involved in the ever-twisting plot in the quest to own the baby.