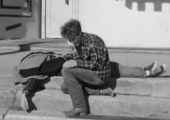 El cine en la década de los 70:
The Last Picture Show. Peter Bogdanovich (1971):
Peter Bogdonovich's great love of film, combined with Larry McMurtry's superior storytelling (he wrote the novel and both collaborated on the script), is in glorious evidence in this elegiac study of life in a small Texas town in the early Fifties. Bogdonovich pays a heartfelt tribute to the America of John Ford and Howard Hawks but the subject matter is contemporary, anguished, appropriate for the time in which it was made. Filmed by the great Robert Surtees in a flat black and white that perfectly evokes the bleakness of rural Texas life and peppered with a fine soundtrack of the popular country hits of the time, Bogdonovich creates a mise en scene understated and keenly observant of the details. It's also filled with McMurtry's trademark mix of humor and pathos. The cast (including Jeff Bridges, Timothy Bottoms, Cybill Shepherd, Ellen Burstyn and Cloris Leachman) is letter-perfect but it's Ben Johnson as Sam the Lion who gives the film its center: in an overwhelming (yet masterfully restrained) performance, Johnson unforgettably absorbs the town's despair, loneliness and regret; his short monologue about lost love is delivered with such deceptive simplicity that its power sneaks up on you unawares. One of the great performances and one of the groundbreaking films of the Seventies.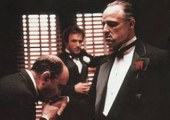 The Godfather. Francis Ford Coppola (1972):
A brilliant and exciting epic crime drama, masterfully fashioned by Coppola from Mario Puzo's best-selling novel. The engrossing plot follows the career of a Mafia leader and the struggle for power between his family and rival organizations. The drama, suspense, and character development are one of the highest order. The film is more than just a compelling gangster saga; it's also a fascinating study of the struggle for achievement and success in America. Exceptional perfomances by Brando, Pacino, Duvall, Caan, John Cazale, Richard Castellano, and Diane Keaton. Oscars: película, actor (Brando), guión (Puzzo y Coppola). Nominaciones: director, Caan, Duvall y Pacino. 175 min.
Amarcord. Federico Fellini (1973):
Apartado del neorrealismo y el catolicismo que marcan la primera parte de su obra, la que realiza durante la década de los cincuenta, desde principios de los 70 el cine de Fellini se convierte en un brillante ejercicio de estilo, pero demasiado impersonal. La excepción es esta gran película, cuyo título quiere decir recuerdo en dialecto romagnolo, que no sólo está muy bien rodada, sino que tiene el calor de una autobiografía. Realizada a partir de un guión de Tonino Guerra y el propio Fellini, rememora su infancia y primera juventud en Rímini a través de una compleja estructura que más que recuerdos enzarzan sensaciones, pero huyendo del realismo, sobre una tan artificial como auténtica reconstrucción en estudio. Con Magali Noël, Armando Brancia, Bruno Zanin y Pupella Maggio. 112 min.
Cousin, cousine. Jean-Charles Tacchella (1975):
This pleasant romantic comedy about French social mores. Stops a step or two short of turning into a farce. Marie-Christine Barrault and Victor Lanoux turn in brilliant perfomances as cousins -by marriage- who first become friends and eventually fall in love. They finally have an affair when all their friends and relatives assume they are doing just that. Also with Marie-France Pisier, Guy Marchand, Ginette Garcin and Sybil Maas. Originally filmed in French. Academy Award Nominations: Barrault, Tacchella and Daniele Thompson (best screenplay written directly for the screen. 95 min.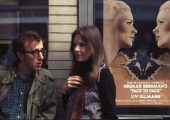 Annie Hall. Woody Allen (1977):
Descrita por el mismo Allen como «una comedia romántica sobre los neuróticos en las ciudades» , Annie Hall narra la relación entre Alvy Singer y Annie Hall, desde sus inicios hasta su separación definitiva. Profundo análisis sobre las relaciones de pareja. Alvy está enamorado de Annie, pero su pugna constante entre su deseo de compartir su vida con ella y su miedo a sentirse privado de libertad, le empuja a perder para siempre a la única persona con la que realmente se siente a gusto. El título original pensado para la película, "Anhedonia", viene a significar precisamente la incapacidad por sentir alegría, la misma ineptitud que Annie le reprocha a Alvy cuando rompe definitivamente con él. En el guión participó Marshall Brickman. La película obtuvo 4 Oscars.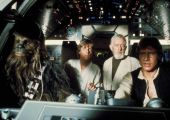 Star Wars. George Lucas (1977):
A magnificent intergalactic adventure with innovative special effects, an equally effecive soundtrack, and archetypal charcters that embody good or evil. Though similar in storyline and approach to the old-time science-fiction serials it pays homage to, the fil is far more sophisticated and hip than that type of film fare. Writer/director George Lucas built an empire on the success of this film, which spawned two sequels and breathed life into science-fiction genre. The film made stars of its principals, and became a pop-culture artifact of the 1970's. Winner of several technical Academy Awards, plus one for John Williams highly recognizable score. Also with Anthony Daniels, Kenny Baker, Peter Cushing, and David Prowse. Nominaciones: película, director, actor secuandario (Ginness) y guión.
Best Boy. Ira Whol (1979) [Documentary]:
The film achieved high critical acclaim, and won many awards including the Academy Award for Best Documentary in 1979. The film follows Ira's mentally handicapped cousin, Philly Wohl, who at that time was 52 years old and still living with his elderly parents. Ira forces his aunt and uncle to realise that they will not be around to care for Philly forever, and that they must start making preparations for when that time should come. Philly then begins to attend classes in New York City to learn how to take care of himself. Philly's father, Max Wohl, dies during the course of the film. His mother, Pearl, died in 1980. Philly is now a septuagenerian, and he lives in a group home where he has learned to basically take care of himself. A sequel entitled Best Man: 'Best Boy' and All of Us, 20 Years Later, was produced in 1997.