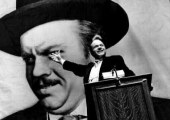 Orson Welles:
Director, productor, guionista y actor nacido en Kenosha, Wisconsin, el 6 de mayo de 1915 y fallecido en Los Angeles, California, el 10 de octubre de 1985. Sólo fue recompensado con el Oscar por el guión de Citizen Kane (1941), película mediante la cual revolucionó el lenguaje, la industria y el mundo del cine y obtuvo nominaciones como director y actor. Sin embargo el rupturismo del que hizo gala chocó con la RKO y esta compañía le quitó, con motivo del siguiente film - The Magnificent Ambersons (1942, El cuarto mandamiento)-, la libertad que le había otorgado para la anterior. Welles había llegado a Hollywood de modo espectacular, como un joven prodigio, avalado por triunfos en el teatro y la radio, que se mostrab dispuesto a causar auténtica sensación. Su lenguaje barroco y sus reflexiones éticas fulguraron de nuevo con The Lady from Shanghai (1948, La dama de Shanghai), film noir. Tras el rodaje se divorció de la protagonista Rita Hayworth, con quien se había casado en 1943. Al final de la década, abrumado por los conflictos con la industria y por la caza de brujas, se desplazó a Europa. Años después escribió, dirigó e interpretó para la Universal Touch of Evil (1958, Sed de mal), otra impresionante incursión en el género negro. En cada una de sus especialidades, desde la de director hasta la de actor, Welles prodigó las innovaciones; su actividad global fue la de un genio que se avanzó a su época y cambió en notorios aspectos el rumbo del cine.
Citizen Kane. Orson Welles (1941):
Welle's masterpiece about a Tyrannical newspaper publisher who built a vast empire. Every moment of the story, which parallels the career of William Randolph Hearst, is filled with intelligence, excitement, and pure entertainment. Welles cowrote, directed, and starred in this magnificent production, which broke new ground in cinematic craftsmanship. Seeing it today is still a remarkable experience, and it surely will remain a gem among Hollywood's offerings. También con George Coulouris, Dorothy Comingore, Ruth Warrick, Paul Stewart y Agnes Moorehead. Oscar al guió original de Herman J.Mankiewicz. Nominaciones: película, director, actor (Welles) y fotografía (Gregg Toland). 119 min.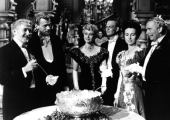 The Magnificent Ambersons. Orson Welles (1942):
The young, handsome, but somewhat wild Eugene Morgan wants to marry Isabel Amberson, daughter of a rich upper-class family, but she instead marries dull and steady Wilbur Minafer. Their only child, George, grows up a spoiled brat. Years later, Eugene comes back, now a mature widower and a successful automobile maker. After Wilbur dies, Eugene again asks Isabel to marry him, and she is receptive. But George resents the attentions paid to his mother, and he and his whacko aunt Fanny manage to sabotage the romance. A series of disasters befall the Ambersons and George, and he gets his come-uppance in the end.
Touch of Evil. Orson Welles (1958):
A highly stylized film about narcotic agent played by Charlton Heston, who attempts to foil a crime while in Mexico on his honeymoon. Welles also star in the film, as the corrupt chief of police in a seedy Mexican border town. The tawdry village is the perfect background for teh cavalcade of prostitutes, thieves, drunks, and ruffians who populate it. The visual style -including the use of wide-angle lenses to distort the image, the high-angle shots, and the pervasive use of shadows- reflects the twisted corruption of Welle's character and his town. An excellent example of how style complements and enhances a storyline. También exixte una versón de 108 minutos. Entre los actores están Marlene Dietrich, Mercedes McCambridge, Joseph Calleia, Akim Tamiroff, Dennis Weaver, Joanna Moore y Zsa Zsa Gabor. 93 min.