Western:
Red River. Howard Hawks (1948):
John Wayne and Montgomery Clift star in this classic western story abot a cattle baron and the dinasty he builds. Clift rebels against his foster father, played by Wayne, and the empire Wayne has developed. The film features some of Hawks' familiar themes and characteristics -the tighly structure narrative, the pairing of opposites (here Clift and Wayne), the straightforward visual style. The photography by Russell Harlan is one of the film's highlight. Aparecen en papeles secundarios Joanne Dru, Walter Bennan, Coleen Gray, John Ireland y Noah Beery, Jr. Fue nominada la historia de Borden Chase. 130 min.
Rio Grande. John Ford (1950):
John Wayne is excellent as a tough cavalry commander on the Mexican border in 1880s, conducting a campaign against Indians on the warpath. Maureen O'Hara costars as his estranged wife who cannot accept his job or his way of life. After a 16-year absence, she arrives at the post to see their son, who is now a new recruit there. Wayne finds himself torn between his duty and the love for his family. John Ford fashioned a touching story involving the sacrifices made by the pioners to secure the West for settlement. The last film in Ford's cavalry trilogy. Also with Ben Johnson, Harry Carey, Jr., Chill Wills, J.Carrol Naish, and Victor McLaglen. 103 min.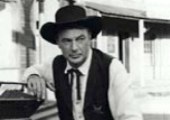 High Noon. Fred Zinnemann (1952):
One of the best westerns of the 1950's, with tight-lipped Gary Cooper doing a sensational job job as a determined lawman who bravely faces the villains alone because the town's citizen are too afraid to help him. Kelly stars as his ypung Quaker wife whose stand against violence tears the just-married couple apart. The script by Carl Foreman is well known for its psychological insights into the characters and their motivations. Zinnemann's direction is tight, with a keen sense of suspense aided by the fact that the action of the film occurs in real time. The story begins at 10:40 AM and concludes at noon, which equals the running time of the film's narrative). Thomas Mitchell, Lloyd Bridges, Otto Kruger, Lon Chaney, Katy Jurado, and Henry Morgan appear in supporting roles. Oscars: actor. Nominaciones: película, director y guión (Foreman). 85 min.
Broken Lance. Edward Dmytryk ***(1954):
Spencer Tracy is effective as the patriarch of a fading cattle empire who grapples with family conflicts. The taut western, remade from House of Strangers, also offers a fine perfomance by Richard Widmark as the unlikable eldest son. Robert Wagner and jean Peters manage the romantic interlude. Other fine supporting perfomances from Hugh O'Brian, E.G.Marshall, and Katy Jurado. Oscars: motion picture story. Nominations: Jurado (supporting actress). 96 min.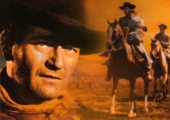 The Searchers. John Ford (1956):
Ford's most famous western, and one of the most influential films in the history of American cinema. Wayne's image as the ultimate western hero was used perfectly by Ford to convey both the admirable qualities of that character -such as individualism and courage- as well as the darker side, marked by intolerance savagery. The storyline involves Wayne and Jeffrey Hunter's search for Wayne's niece (Natalie Wood), who was captured by the Indians after her family was massacred. His relentless pursuit against insurmountable odds is courageous, yet his determination to kill his niece because she has been contaminated by the Indians is disturbing. The Searchers marks the beginning of Ford's interest in the darker side of the western myth, more evident in The Man Who Shot Liberty Valance. The poetic imaginery of the desert landscapes semms at odds with the brutality of the enviromet . A cast of Ford's favorite character actors, including Ward Bond, John Qualen, Ken Curtis, Harry Carvey, Jr., and Hank Worden, are excellent in supporting roles. Also with Vera Miles, Olive Carey, and Lana Wood. (119 min.)
The Big Country. William Wyler (1958):
James McKay (Gregory Peck) is a seafaring man who heads west to marry Carroll Baker (Patricia Terrill) , the daughter of rancher Henry Terrill (Charles Bickford). Bickford is currently embroiled in a water-rights feud with covetous Rufus Hannassey (Burl Ives), so both he and his daughter are hoping that Peck can take care of himself. But Peck, who doesn't belief in fisticuffs, appears to be a coward, especially when challenged by Bickford's cocksure foreman Charlton Heston. The far-from-cowardly Peck decides to distance himself from the machismo overload at the Bickford spread, settling for a romance with headstrong schoolmarm Julie Maragon (Jean Simmons), whose water-rich lands are being fought over by the two warring ranchers. When Jean is kidnapped by Ives' no-good son Chuck Connors, Peck decides to take action. 165 min.
McLintock!. Andrew V.McLaglen ***(1963):
John Wayne demonstrates his hability to handle comedy in this wild and woolly western. The Duke plays a formidable cattle baron who knows how to run his business and the community, but has trouble controlling his wife. Lots of high spirits and raucous slapstick maintain steady interest in this farce that parodies Shakespeare's The Taming of Shrew. Maureen O'Hara is effective as Wayne's difficult wife, and there are other good perfomances by Yvonne De Carlo, Patrick Wayne, Stefanie Powers, Chill Wills, and Bruce Cabot. 127 min.