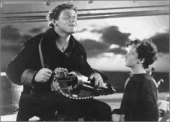 Captains Courageous. Victor Fleming (1937)
A typical MGM prestige picture of the 1930s and a popular adaptation (from Kipling) that became a childrens's classic. Tracy won his first Oscar as the simple Portuguese fisherman who rescues a boy (Freddie Bartholomew) who has fallen from an ocean liner. He teaches the boy a thing or two about life, labor, and courage during the three months the boy is on board his fishing vessel. Impresive work by the entire cast (includig Lionel Barrymore, Melvyn Douglas, Charley Grapewin, John Carradine, Leo G.Carroll and Mickey Rooney.
---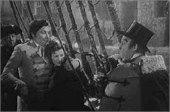 Jamaica Inn. Alfred Hitchcock (1939):
Taut and exciting melodrama set during the Victorian era in the country around Cornwall. O'Hara, an innocenr orphan, is taken in by a country squire, Laughton, who secretly heads a band of British pirates. A faithful adaptation of the Daphne du Maurier novel, the film has a rich atmosfere and a gothic quality. A good thriller with fine perfomances. The suporting players include Leslie Banks, Robert Newton, and Emlyn Williams.
---
The princess and the Pirate. David Butler ***(1944):
In this film, Bob Hope and Virginia Mayo try to elude a sinister pirate, played by Victor McLaglen. Walter Slezak costars as a potentate. There's loads of wacky fun in this costome comedy. Other supporting roles are played by Walter Brennan, Marc Lawrance, and Hugo Maas. 94 min.
---
The Pirate. Vincente Minnelli (1948):
MGM's golden age of musicals produced this colorful, tongue-in-cheek spectacular. The charismatic stars are terrific toguether. Judy Garland plays a young woman of the West Indies with a richly romantic imagination; Gene Kelly costars as the flamboyant traveling player who pretends to be a notorious Caribbean pirate to steal Garland away from the old windbag who intends to marry her. Top musical director Minnelli stages it all with tremendous panache, an Kelly does some of his mosst acrobatic dancing, abetted by the Nicholas Brothers. Also with Walter Slezak. Score by Cole Porter.
---
Treasure Island. Byron Haskin (1950)
Robert Newton is splendid as Long Silver, and Bobby Driscoll is competent as Jim Hawkins in this Walt Disney version of the Robert Louis Stevenson tale about the discovery of a pirate map that leads to a search for buried treasure. A notable version because the film changes the ending of the original novel. In 1975, the film was released in a 87-minute version, with some objectionably violent scenes edited out. Also with Basil Sydney, Denis O'Dea, Ralph Truman, Walter Fitzgerald, Finlay Currie and Geoffrey Wilkinson.
---
The captain's paradise. Anthony Kimmins (1953):
A fine droll comedy starring Alec Guinness as a ferryboat skipper who has a wife on each end of his route. Guinness expertly fills the role with his usual measure of dry wit played with a straight face. Yvonne De Carlo and Celia Johnson are perfectly as cast as the unsuspecting wives, who accommodate the contrasting aspects of the captain's personality . It's a great sophisticated romp. Also with Bill Fraser and Charles Goldner.
---
20.000 Leagues under the sea. Richard Fleischer (1954)
The universe of novelist Jules Verne springs to life in this exciting Walt Disney production about life aboard a futuristic submarine during the Victorian era. Kirk Douglas, Peter Lorre and Paul Lukas get aboard Captain Nemo´s sub for scintillating adventures. Nemo is played by James Mason. The film is noteworthy for its innovative special effects, which won Academy Award, as did the production design. Also with Carleton Young, Ted De Corsia, and Robert J.Wilke.
---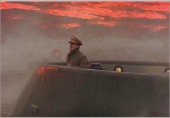 Voyage to the Bottom of the Sea. Irwin Allen **(1961):
Excellent trick photography and entertaining action sequences make this science-fiction tale worthwhile for fans. The adventures of the atomic submarine assigned to destroy a radiation belt that threatens the planet are superficial by a large, but the acting of Walter Pidgeon, Robert Sterling, Joan Fontaine, Peter Lorre, Frankie Avalon, and Barbara Eden make the sub's mission seem believable.
106 minutes.
---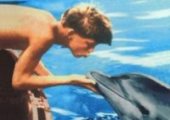 Flipper. James B.Clark (1963):
Routine animal adventure about a boy in Florida who rescues a wounded dolphin; they soon become great friends. Luke Halpin is fine as the plucky lad. Nice fluff for the kids, but adults will probably find it tiresome. This film led to two sequels and a TV series.
Also with Chuck Connors, Kathleen Maguire and Connie Scott.
90 minutes.
(**)
---
The day of the dolphin. Mike Nichols (1973):
A so-so thriller about a marine biologist, played by George C.Scott, who trains dolphins to talk and unwittingly becomes entangled in a plot to assassinate the President. Despite the big money and top talent involved, the film fails. There's a bit of comedy and suspense here and there, but the film ends on a discouraging note. Also with Trish Van Devere, Paul Sorvino, Fritz Weaver, Leslie Charleson, John Korkes and Edward Herrmann.
---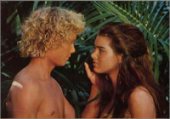 The blue lagoon. Randal Kleiser (1980):
Emmeline (Brooke Shields) and Richard (Christopher Atkins) are two shipwrecked children on a tropical island who grow up to be lovers. Everything is picture-poscard pretty in cinematography by Nestor Almendros, who was nominated for an oscar for this work on this film. But excitementand drama are nowhere to be found. The story somewhat unrealistically and awkwardly emphasizes innocent sexual awakening. The 1949 version with Jean Simmons worked better as a Hollywood-style fantasy. Also with Leo McKern amd William Daniels.
---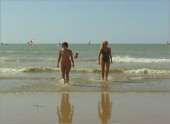 Pauline at the beach. Eric Rohmer (1983):
[Pauline à la plage] Comedias y proverbios III. Qui trop parole, il se mesfait. Quien habla demasiado, acaba errado. (Chrétien de troyes) Rohmer's playful comedy involves brief love affairs among six persons of various ages vacationing on the Normandy coast. At the center of this complex mating game is budding teenager Amanda Langlet, whose innocent summer romance contrasts with the childish behavior of the adults. Also with Arielle Dombasle, Pascal Greggory and Feodor Atkine. Fotografía de Nestor Almendros. (95 min.)
---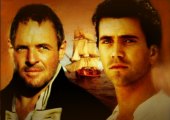 The Bounty. Roger Donaldson (1984):
This lavish third film voyage of the classic high-seas adventure is perhaps closest to the truth of the 1787 mutiny aboard the British naval ship. Lt.William Bligh, played with gripping intensity by Anthony Hopkins, is perceived as a multidimensional, somewhat heroic character. The retelling is as engrossing as ever, but the initial 1935 Charles Laughton-Clark Gable version is more enjoyable. Also with Mel Gibson.