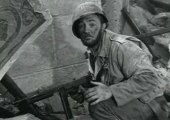 Segunda Guerra Mundial: Películas:
Story of G.I.Joe. William A.Wellman (1945):
Vida cotidiana de los combatientes de infantería desde el punto de vista de un semi-documental y con apoyo en un protagonismo colectivo. Las tomas de acción real, extraídas de los noticiarios y, en especial, de los films del Signal Corps, quedaron insertas consecuentemente de forma muy natural en el estilo de Wellman. Se centra principalmente en la batalla de Monte Cassino desde la perspectiva de los hombres de la compañía C, guiados por el capitán Walker (Mitchum) en dirección a Roma. Pyle les acompañaba en diversos momentos; al final volvía a encontrarlos y contemplaba el cuerpo sin vida de Walker sobre una mula. La voz en off del corresponsal, presente en elgunas escenas, prestaba un homenaje a los caídos mientras se ven multitud de cruces de madera y a los soldados caminar en el horizonte. El tono general antibelicista es repetido por Wellman en Battleground [Fuego en la nieve] (1949). Sus guionistas, adscritos a posturas de izquierda, tuvieron que vérselas con el comité de McCarthy.
The Best Years of Our Lives. William Wyler (1946):
[Los mejores años de nuestra vida] A powerful, provocative film about three GIs who return from World War II to a small American town and face difficulties adjusting to civilian life. Filmaking quality prevails throughout with superior acting, no-nonsense direction, and perfect pacing. There are many touching moments -some amusing, some sad- that capture the mood of post-World War II America. Harold Russell, Virginia Mayo, Cathy O'Donnell, Hoagy Carmichael, Gladys George, and Ray Collins also star. Academy Awards: best picture, best director, best actor (Fredric March), supporting actor (Russell), and screenplay (Robert E.Sherwood). 172 min.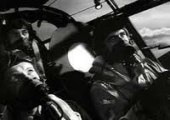 The Dam Busters. Michael Anderson (1954):
Gripping, straightforfard World War II account of the development of the RAF's skip-bombing technique, which was used to blow up the Ruhr dams in 1943 to cripple some vital German industries. An intense climate of suspense and danger builds as the British execute their plan step by step. Fine acting and impressive, Oscar-nominated special effects enhace the production. With Michael Redgrave, Richard Todd, Ursula Jeans, Derek Farr, Patrick Ban and Basil Sydney. 102 min.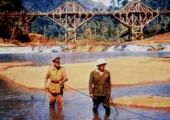 The Bridge On the River Kwai. David Lean (1957):
A superb war drama distinguished by magnificent acting and direction and an out-of-the-extraordinary approach to its subject. Alec Ginness stands out a a determined British commanding officer captured by the Japanese. He spurs his men to construct a railway bridge in Burma for their captors to maintain morale and demonstrate British engineering superiority; then he can't bear to see his creation blown up by his own side. The film is blessed with gripping action, suspense, and a compelling script that bristles with ironies. The film is based on Pierre Boulle's novel. También con Jack Hawkins y William Holden. Oscars: película, director, actor (Guinness), guión (Boulles), fotografía (Jack Hildyard). Sessue Hayakawa fue nominado como actor secundario.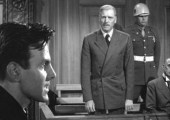 Judgment at Nuremberg. Stanley Kramer (1961):
A distinguished film treatment of the famous 1948 trial of Nazi officers acused by the Allies of terrible crimes against humanity. It's intelligently done in semidocumentary style and graced with powerful perfomances. Primarily, the film confronts that nagging rationalization for such outrageous behavior: "We were only following orders". Maximilian Schell is outstanding as a defense attorney, and Spencer Tracy is effective as the court's presiding judge. Also with Marlene Dietrich, Burt Lancaster, Richard Widmark, Judy Garland, Montgomery Clift, William Shatner, Edward Binns and Werner Klemperer. Academy Awards: Schell (actor), Abby Mann (screenplay based on material from another medium). Nominations: Best picture, director, actor (Tracy), supporting actor (Clift), supporting actress (Garland), cinematography (Ernest Laszlo). 178 min.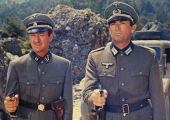 The Guns of Navarone. J. Lee Thompson (1961):
[Los cañones de Navarone] A high-powered World War II action yarn, based on an Alistair MacLean novel. Allied commandos embark on a do-or-die mission to silence big German guns perched high on a cliff-top fortress along the Aegean Sea. Suspense builds at a near-perfect pace leading to an explosive climax. Extenso reparto con Gregory Peck, David Niven, Stanley Baker, Anthony Quinn, Anthony Quayle, James Darren, Gia Scala y James Robertson Justice. Nominaciones: película, director, guión no original (Carl Foreman). 159 min.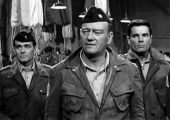 The Longest Day. (1962):
Codirigida por Andrew Marton, Ken Annakin y Benrhard Wicki. Sprawling, ambitious war saga about the Allied invasion of Normandy during World War II, starring an army of well-known actors. The film is impressive for its grnad details of the various events of the D-day landings, but the huge cast is spread around rather thinly, thereby thwarting proper characterizations. Yet the spectacular account offers relentless fascination. The epic proportions, including the CinemaScope photography, will be lost on the small screen. Forman parte del gran reparto John Wayne, Robert Mitchum, Henry Fonda, Robert Ryan, Rod Steiger, Robert Wagner, Stuart Whitman, Steve Forrest, Fabian, Richard Todd, Richard Burton, Paul Anka, Sean Connery y Peter Lawford. Oscar por la fotografía de Jena Bourgoin y Walter Wottiz. Nominada a la mejor película. 180 min.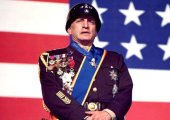 Patton. Franklin J. Schaffner (1970):
Basada en un buen guión original de Francis Ford Coppola, no se trata de una producción hagiográfica más a mayor gloria del general George Smith Patton (George C.Scott) y la intervención de EE.UU. en la II Guerra Mundial, sino un duro, eficaz y realista retrato de uno de los principales y conflictivos artífices de la derrota de los nazis. Un prólogo de seis minutos de duración, donde Patton arenga a una invisible tropa sobre el fondo de una gigantesca bandera norteamericana, anuncia que no se trata de una película vulgar. El tono irónico y la solidez que F.J.Schaffner sabe imprimir al relato y la dureza de la interpretación de George C.Scott, lo confirman. Con Karl Malden, Michael Bates, Stephen Young. 171 min.
Merry Christmas Mr. Lawrence. Nagisa Oshima ***(1983):
David Bowie's meticulous perfomance as a New Zealand officer confined to a Japanese prisoner-of-war camp is intriguing. The film is uneven and often unnecessarily harsh and gory. It tries to explore the differences and similarities of Western and Oriental cultures, a sort of intellectual version of Bridge on the River Kwai. But it pulls in too many directions at once and fails to achieve coherence. Takeshi and Jack Thompson costar. Sakamoto's soundtrack music is impressive. 120 min.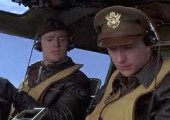 Memphis Belle. Michael Caton-Jones (1990):
Historia de un grupo de 10 jóvenes norteamericanos que integraban la tripulación del bombardero B-17 Memphis Belle durante la Segunda Guerra Mundial. Desde bases en suelo británico habían efectuado 24 operaciones sobre territorio alemán. Está muy presente la elevada mortalidad de los tripulantes hasta alcanzar el número máximo de misiones prefijado por hombre. Su última misión consiste en el bombardeo de Dresde, distante ciudad alemana cerca de la frontera checa actual. Matthew Modine-Capt. Dennis Dearborn, Eric Stoltz-Sgt. Danny "Danny Boy" Daly, Tate Donovan-1st Lt. Luke Sinclair, D.B. Sweeney-Lt. Phil Lowenthal, Billy Zane-Lt. Val "Valentine" Kozlowski, Sean Astin-Sgt. Richard "Rascal" Moore, Harry Connick Jr.-Sgt. Clay Busby.
Empire of The Sun. Steven Spielberg (1987):
[El Imperio del Sol] An inspiring, action-packed epic of a small boy in a great war. That boy is Jim Graham, a young Briton whose unconquerable spirit soars high and free above the harsh confines of a Japanese internment camp during World War II. Through his eyes we see the fascination and horror of war. And we see a child's hold onto childhood weaken as his struggle to survive grows fiercer. Based on J. G. Ballard's memorable bestseller, this first major Hollywood studio production ever to shoot in the People's Republic of China earned 1987 National Board of Review awards for Best Picture and Director, as well as a special citation for Outstanding Juvenile Performance for Christian Bale. Christian Bale ... Jim 'Jamie' Graham, John Malkovich ... Basie, Miranda Richardson ... Mrs. Victor, Nigel Havers ... Dr. Rawlins Joe Pantoliano ... Frank Demarest, Leslie Phillips ... Maxton, Masatô Ibu ... Sgt. Nagata, Emily Richard ... Mary Graham, Jim's mother, Rupert Frazer ... John Graham, Jim's father, Peter Gale ... Mr. Victor, Takatoro Kataoka ... Kamikaze Boy Pilot, Ben Stiller ... Dainty, David Neidorf ... Tiptree, Ralph Seymour ... Cohen, Robert Stephens ... Mr. Lockwood.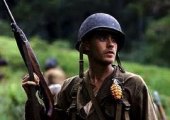 The Thin Red Line. Terrence Malick (1998):
[La delgada línea roja] Visiones particulares de gente común alistada y militares profesionales ante los horrores de la guerra en islas del Pacífico. El avance y la toma de posiciones es tan conveniente para la promoción de los mandos que el precio en bajas pierde importancia hasta volverse secundario. An Academy Award-nominated 1998 war film which tells a fictional story of United States forces during the Battle of Guadalcanal in World War II with the focus on the men in C Company, most notably Private Witt (James Caviezel) and his conflicted feelings about fighting in the war, Colonel Tall (Nick Nolte) and his desire to win the battle at any cost in order to get a promotion, and Private Bell (Ben Chaplin) and the dissolution of his marriage back home while he fights in the war. The film marked director Terrence Malick's return to filmmaking after a twenty year absence. Malick adapted the screenplay from the novel of the same name by James Jones, which had previously been adapted in a 1964 film. The film features a large ensemble cast. The project took 20 years to make as Malick spent years researching and deciding whether or not to do it. Once it was announced that he would be returning to filmmaking, many big name movie stars expressed interest in appearing in the film, including Robert De Niro, Kevin Costner, Tom Cruise and Brad Pitt. Billy Bob Thornton, Martin Sheen, Gary Oldman, Jason Patric, Bill Pullman, Lukas Haas, Viggo Mortensen and Mickey Rourke acted in the movie, but their scenes were eventually removed. Reportedly, the first assembled cut took seven months to edit and ran three and a half hours, with Thornton contributing three hours of narrative voice-over material, none of which was ultimately used. The Thin Red Line was not successful at the North American box office where it only grossed $36 million, well below its $52 million budget. Critical response was generally strong and the film was nominated for seven Academy Awards: Best Picture, Best Director, Best Adapted Screenplay, Best in Cinematography, Best in Film Editing, Best Original Score and Best in Sound Mixing. It won the top prize at the 1999 Berlin International Film Festival. Martin Scorsese ranked it as his second favorite film of the 1990s on Roger Ebert's television Sean Penn ... 1st Sgt. Welsh, Elias Koteas ... Capt. Staros, Jared Leto ... 2nd Lt. Whyte, Nick Nolte ... Lt. Col. Tall John C. Reilly ... Sgt. Storm, John Travolta ... Brig. Gen. Quintard, Woody Harrelson ... Sgt. Keck, Adrien Brody ... Cpl. Fife James Caviezel ... Pvt. Witt (as Jim Caviezel), Ben Chaplin ... Pvt. Bell, George Clooney ... Capt. Bosche, John Cusack ... Capt. Gaff.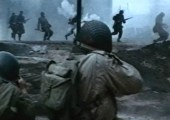 Saving Private Ryan. Steven Spielberg (1998):
Ryan es un soldado más durante el desembarco en Normandía. En el transcurso de poco tiempo sus hermanos mueren en combate y el ejército decide limitar el sufrimiento de su familia haciéndose cargo de su seguridad. Un pelotón es enviado en su busca para retirarlo del frente. La misión de rescate se ve entorpecida por intensos enfrentamientos en el lugar donde se encuentra el soldado, que preferiría no ser relevado. Recreación de combates con espectaculares efectos especiales. Tom Hanks-Capt. John H. Miller, Tom Sizemore-Sgt. Mike Horvath, Edward Burns-Pvt. Richard Reiben, Barry Pepper-Pvt. Daniel Jackson, Adam Goldberg-Pvt. Stanley Mellish, Vin Diesel-Pvt. Adrian Caparzo.