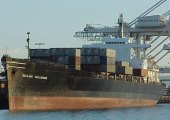 The 1992 strategic plan:
Was conceived and approved by Sea-Lands's Senior Management Committee in the summer of 1991. The plan is customer focused, designed to meet emerging market requirements. It has been endorsed by our parent company, CSX Corporation. All those involved in its development recognize fully that it is a challenging plan, and that successful implementation calls for a concerted effort by all associates, working cohesively on several fronts simultaneously. Underlying the plan is the key concept of balance. It is neither a so-called "growth" plan nor a "productivity" plan -it envelops both objetives. The plan also addresses both our stregths and weaknesses as a company. The initiatives in the plan are designed to leverage the former and overcome the latter. We realize tha while Sea-Land will be proceeding on many fronts -taking growth initiatives and applying productivity measures, working on our stregths as well as weaknesses- emphasis will shift in the line with near-term economic and business conditions and market forces which influence our ability to achieve near-term financial goals. In other words, within the framework of the plan, management will priorize and continually reassess the priority of initiatives taken to assure that owner and investor requirements are realized. Simply put, the scales will shift periodically but balance, ultimately, will result. The strategic plan is driven by the Sea-Land Mission and will be implemented by associates embodying Sea-Land Values. Both our mission and value statements are placed prominently in the plan document and, jointly, succintly define Sea-Land´s purpose as a company, the constituencies that we serve -our customers, investors and associates- and our behavioral and ethical standards. The Sea-Land Mission Statement and Sea-Land Values Statement are consistent in principle with stetements adopted by CSX Corporation and its other operating units. The plan tells us, "what we have to do as a company to succeed." A careful reading will reveal we must retool in several areas to deliver the level of service required by customers. Inherent in the plan is a recognition that while Sea-Land has been making impressive strides, global competitors have learned from us, are adopting a more sophisticated approach to the business and many, clearly, benefit from greater access to capital and more favorable cost structure. Furthermore, the plan acknowledges that the trend of Sea-Land's costs are a serious problem and that rate offsets are not compesatory. In this important respect, the strategic plan is a, "call to action" for all of us. Sea-Land has enjoyed considerable success in recent years and our gains have been recognized by our customers, owners, investors and industry observers. This is a platform we can build upon to fulfill our future goals and ensure rewarding careers. The plan is only a guide -your efforts will define our progress.
Productivity:
An absolute requirement of plan success. Implementing productivity/cost effectiveness initiatives will enable Sea-Land to keep its rates competitive and provide the margin improvements needed to achieve an ROIC in excess of our cost of capital. We are challenged to implement a reduced cost structure and, simultaneously, improve the quality and customer focus of our service offering. Process analysis and improvement is the primary tool used for achieving long-term, systemic productivity/cost effectiveness gains. By examining and evaluating how we do our work, by developing and implementing new and refined processes for accomplishing our work, costs will be reduced and margins will increase. The newly-formed Operations Council will lead this effort, and all line and support functions have an obligation to improve work processes by applying the four quality principles.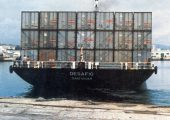 Customer Focus:
Sea-Land remains committed to tailoring our service offerings to meet customer requirements. All of the thrusts and specific initiatives in the plan are consistent with this approach. The CFI process which is in place worldwide provides a framework for evaluation, setting standards and benchmarking so that continous improvement meeting customers's requirements results. The customer-focused Basic Transportation Service components of transit time, reliability, documentation, equipement and customer service -familiar to all of us- remain the foundation of our strategy. Sustained focus on improving BTS quality will produce the balance of operating expense savings and increased business to reach our goals. Accordingly, BTS will be given the highest priority in allocation campany resources.
Infrastructure Development:
Primary focus on the base infrastructure -information systems, the global organization (our team capabilities), and our terminal network- maximizes Sea-Land's potential for building competitive advantage. Plan initiatives are designed to leverage, or move effectively employ, these major strengths.
Expansión:
We will grow, or expand, our coverage of world markets. In addition, we will continue to add service capabilities which bring our Strategic Vision as a global distribution company closer to reality. Geographic and service expansion will be orderly and carefully targeted to enhace achievement of financial goals.
Strategic Vision:
This projects our gradual transformation from an ocean carrier to, ultimately, a global distribution company and cites key steps in that passage across a time line. The company's Strategic Vision is consistent with our mission. Application and the commitment to adhere to Sea-Land Values will foster the culture required to achieve plan goals and will provide for enriching careers.
Sea-Land Values:
The primary responsibility of every Sea-Land employee is to serve customers is the spirit of partnership in order to understand and satisfy their needs. We must provide quality execution on a consistent basis over the long term through:
An organization that values its employees and respects their dignity.
A commitment to teamwork, openess and candor.
A commitment to increased quality and continous improvement.
Increased empowerment and personal accountability.
A commitment to ethical conduct.
A willingness to innovate and change in well-planned ways that yield a competitive advantage.
A sense of urgency and bias for action.
Only by carrying out these values will Sea-Land be able to fulfill our ultimate responsibility to provide sustainable, superior returns to our shareholders.

Sea-Land Mission:
Sea-Land is global distribution company. We will lead our industry in providing high quality, intermodal containerized transportation and innovative logistics services. We area team that competes to win, adhering to high ethical standards and regulatory guidelines. We are dedicated to growing profitably and improving our company continuosly, throuh the excellence of our people, focus on our customers, and by leveraging the strengths of our organization, our technology, and our physical assets. We are commited to being the best in our industry in fully meeting the needs of our three major constituencies:
For our customers, we will work as a partner to provide excellent service by meeting all agreed-upon commitments.
For our employees, we will create a work enviroment that motivates and allows them to grow and develop and perform their jobs to the maximun of their capacity.
For our shareholders, we will meet our goals to provide them with sustainable superior returns.
---
Rail Shuttle Rotterdam-Milan (1994):
ERS, which stands for European Rail Shuttle, represents the first successful private and international container rail operation in Europe. It is jointly managed by the Vessel Sharing partners ; Sea-Land, P&O and Nedlloyd. Its first product was the Rotterdam-Milan shuttle which started in January '94 with three 66 teu capacity trains per week. This service was doubled in frequency and capacity in less than 16 months. In 1995six trains were running vice versa each day from Monday through Saturday with 72 teus capacity each. The transit time was 30 hours. The second product run by ERS was an overnight rail service between Rotterdam and Germersheim in South-West Germany, a multimodal hinterland terminal, which truly combines all transport modes, be it truck, rail, or barge. This service started in November '94 with three 60 teu trains per week and soon was increased to four trains per week with 70 teus capacity.
---
South East of Asia (2006):
The current structure of commercial exchanges, placing China and the rest of countries of the South East of Asia as the origin of goods distributed round the world, true engine of world trade, this has meant a non stop increase of port traffic of the mentioned area (in the 1st TOP 100). There are 11 Chiese ports handling over 73 million teu, which means the 25% of those handled by the first hundred world ports). And also an unbalance between the traffic of full and empty containers which has been slown down by the need of raw materials from China, all this means the development of logistics planning to a large scale.