Esta información se ha vuelto completamente obsoleta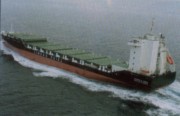 The Odiel Group has 27 regional offices to serve you across Spain or around the world. The Odiel Group, as Container Terminal Operators in the Iberian Peninsula, actually moves one million TEUS among all ports served. At the port of Algeciras, first port in the Mediterranean moving containers, we operate TERMINALES DE CONTENEDORES DE ANDALUCIA,S.A.(C.T.A.), with 4 Portainer Cranes with an operational surface of 400.000 sqm, and a berthing priority of 750 m. Also at the port of Algeciras, in Muelle de Isla Verde, the Odiel Group operates the Multipurpose Terminal of TERMINALES DE ALGECIRAS,S.A. At the port of Alicante TERMINAL DE CONTENEDORES DE ALICANTE,S.A., offers its high improvement services with 2 Portainer Cranes and berthing exclusiveness.COMPUTER SYSTEM: The Odiel Group is fully computerized, and as promotor of the company Informática y Telemática Portuaria,S.A., develops, together with main Autonomic Spanish Ports, the computer systems for all services at ports, as well as the development and introduction of E.D.I. TRANSIT AND CUSTOMS: As from 1993, the Odiel Group offers complete service to their customers to perform warehousing and transit of their goods throughout the European Union, in a market without border. However, our Customs Departments continue offering the necessary Customs Clearance which is necessary for other countries. STEVEDORING: The Odiel Group performs Stowage/Unstowage operations, either for breakbulk cargoes as well as of general cargo, being specialized in loading/unloading of dangerous cargoes as well as special road transport, offering an efficient logistic intermodal service. CHARTERING AND SPECIAL CARGOES: Our specialized Chartering Departament offers the best services to our customers.HIRE OF CONTAINERS: Have a container park and represent in Spain to the most important Companies in the hiring of containers, standard and special equipment.WAREHOUSING: We offer to our customers the possibility to keep properly their goods at the main Spanish ports in our own warehouses, even refer cargoes. REGULAR LINES: Through our own Lines, and others of first class Owners, we offer Regular Line Services covering practically the whole world. HUSBANDRY: Our experience as Owners, in the market since 1956, has given us the confidence of many Owners in the field of husbandry for their vessels, and said confidence backs-up our work, day by day, in our efficient service.
Whatever your shipping requirements, NOSA is ready to provide the best service around.