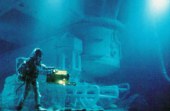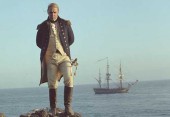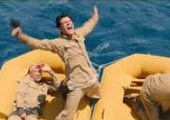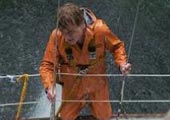 Unbroken. Angelina Jolie (2014):
After a near-fatal plane crash in WWII, Olympian Louis Zamperini spends a harrowing 47 days in a raft with two fellow crewmen before he's caught by the Japanese navy and sent to a prisoner-of-war camp.
The Finest Hours. Craig Gillespie (2016):
The Coast Guard makes a daring rescue attempt off the coast of Cape Cod after a pair of oil tankers are destroyed during a blizzard in 1952.
U-571. Jonathan Mostow (2000):
In the midst of World War II, the battle below the seas rages. The Nazi's have the upper edge as the Allies are unable to crack their war codes. That is, until a wrecked U-boat sends out an SOS signal, and the Allies realise this is their chance to seize the 'enigma coding machine'. But masquerading as Nazi's and taking over the U-boat is the smallest of their problems. The action really begins when they get stranded on the U-boat. (imdb: 6,6)
Ghost Ship. Steve Beck (2002):
A salvage crew that discovers a long-lost 1962 passenger ship floating lifeless in a remote region of the Bering Sea soon notices, as they prepare to tow it back to land, that "strange things" happen.
Poseidon. Wolfgan Petersen (2006):
On New Year's Eve, the luxury ocean liner Poseidon capsizes after being swamped by a rogue wave. The survivors are left to fight for their lives as they attempt to escape the sinking ship. (imdb:5,7)
Ondine. Neil Jordan (2009):
On the coast of Cork, Syracuse is a divorced fisherman who has stopped drinking. His precocious daughter Annie has failing kidneys. One day, he finds a nearly-drowned young woman in his net; she calls herself Ondine and wants no one to see her. He puts her up in an isolated cottage that was his mother's. Annie discovers Ondine's presence and believes she is a selkie, a seal that turns human while on land. Syracuse is afraid to hope again. [imdb: 6,8]
Pirates. Roman Polanski (1986):
Captain Red runs a hardy pirate ship with the able assistance of Frog, a dashing young French sailor. One day Capt. Red is captured and taken aboard a Spanish galleon, but thanks to his inventiveness, he raises the crew to mutiny, takes over the ship, and kidnaps the niece of the governor of Maracaibo. The question is, can he keep this pace up? [imdb:6,1]
Robinson Crusoe. Rod Hardy (1997):
Robinson Crusoe flees Britain on a ship after killing his friend over the love of Mary. A fierce ocean storm wrecks his ship and leaves him stranded by himself on an uncharted island. Left to fend for himself, Crusoe seeks out a tentative survival on the island, until he meets Friday, a tribesman whom he saves from being sacrificed. Initially, Crusoe is thrilled to finally have a friend, but he has to defend himself against the tribe who uses the island to sacrifice tribesman to their gods. During time their relationship changes from master-slave to a mutual respected friendship despite their difference in culture and religion. [imdb:5,9]
The Pirates! In an Adventure with Scientists. Peter Lord & Jeff Newitt (2012):
Pirate Captain sets out on a mission to defeat his rivals Black Bellamy and Cutlass Liz for the Pirate of the year Award. The quest takes Captain and his crew from the shores of Blood Island to the foggy streets of Victorian London.
Charlie St. Cloud. Burr Steers (2010):
Charlie's brother, Sam dies in a car crash that Charlie survives. Charlie is given the gift of seeing his dead brother but when the girl he fell in love with's life is at risk he must choose between his girlfriend and his brother. He lives in the coast and is the winner of sailboat races.
---
Frozen River. Courtney Hunt (2008):
Takes place in the days before Christmas near a little-known border crossing on the Mohawk reservation between New York State and Quebec. Here, the lure of fast money from smuggling presents a daily challenge to single moms who would otherwise be earning minimum wage. Two women - one white, one Mohawk, both single mothers faced with desperate circumstances - are drawn into the world of border smuggling across the frozen water of the St. Lawrence River. Ray and Lila… and the New York State Trooper who ultimately brings the two to justice.