The name of Sea-Land's agent in Spain is Naviera del Odiel.
Maersk is still using Trasatlantica's feeders to move contrs. to Canary Islands.
Maersk operates their contrs. in the same public terminal we always use.
The volume of work in Tenerife office is increasing lately due to changes in the way of working.
Trasatlantica's 1999 goal on traffic in Canary Islands line was reached.
In december 1999 Tenerife office was approved by Lloyd's Register Quality Assurance to the Quality Management System Standard ISO 9002:1994.
Many Sea-Land's customers contacted us only to say there are no agency like the one we had and they miss us very much.
---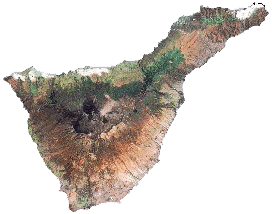 ---

TENERIFE ISLAND

---
POPULATION: 850.000 SURFACE AREA: 2,354 Square Kms

TENERIFE PORT: Longitude:16º 14' Latitude:28º 29' Land Area:1,475,780 square meters
Covers the 90% of the total traffic at the the five commercial ports in the province. Located on crossroads of the traditional sea routes connecting Europe with America and the west Africa coast, it has a privilegied geographical situation and excellent facilities, equipments and climatic conditions for vitualling and tourist cruises calls. NOSA works mainly at East Dock (Dique del Este), an industrial dock for bulk and containers traffic has a surface of 16.6 Ha. Equipped with portal cranes and 3,838 square meters of covered warehouses of grupaje.
---
HISTORY:
Althoug it was known to the Phoenicians, Greeks, Romans and Arabs from ancient times, the Port of Tenerife did not gain importance until the XVI Century, an era of great Geographical and Scientific discoveries, passing through it the galleons of the Spanish Crown en route to the West Indies, geographers and scientists, European merchants and navigators, English and Dutch pirates, Magellan, La Pérouse, Cook, D'Entrecasteaux, Darwin, Kruzenstern, Humboldt, etc. Jennings, Blake and Nelson unsuccessfully tried to conquer it. Hawkins and Blake were convinced that the port of Tenerife was an indispensable point of call on the route from Britain to the Caribean and the Gulf of Guinea. In 1852 it was declared a Free Port. In 1930, the first refinery of Spain was installed here as did previously, the first School of Navigation. The crisis of Suez during 1956 and 1967, confirmed the strategic position of the port of Tenerife as a bunkering station for all types of ships, importance well proved since the coal-burning era up to these days. It is also worth mentioned the role played by the port of Tenerife as call station for cruisse ships since the end of the past century until today. After Spain joined the EEC in 1986, the port of Tenerife continues to enjoy its status as a Free Port, a fact that has historically contributed to achieve high bench marks that have placed the port at the top of the Spanish ones, due to the gross registered tonnage of vessels calling here.
Santa Cruz de Tenerife: Founded in 1494 at the foot of Mount Mercedes, by the Governor, Alonso Fernandez de Lugo in the name of the King of Spain, to incorporate it into the Crown of Castile. The island was populated up till then by 'los Guanches', prehistoric natives whose origin is thought to be related with the Berbers of north-east Africa. Its scarce growth was related to its functions as port of call on the routes to America, as La Laguna port. It monopolized the Canary Island traffic in the 18th century and fought off Nelson's attack in 1797. The free port was the basis for its development as from the second half of the 19th century. When the Cadiz Parliament was set up in 1812, approval was given for the abolition of feudal states and, a quarter of a century later, town councils appeared for each municipality. Today, it is the first centre of the island and the second in the archipielago. It is the capital of the island and of the province of Santa Cruz de Tenerife and co-capital of the Autonomous Community, together with Las Palmas de Gran Canaria. Fulfilling its Statute of Autonomy, every four years the Government's Presidency transfers its seats from one city to the another. Oil refineries, food industries, tobacco making, chemical and building material industries make up its major wealth, whilst not forgetting its main source of income: tourism.
---
FIESTAS AND FESTIVALS: There are fiestas thorought the year.The ministry of Tourism has declarated the carnivals of particular interest.They are celebrated mainly in Santa Cruz but also in Puerto de la Cruz and other parts of the island. Visitors come from all over the world to see them. In adition the romerias (village festivals) are celebrated in different villages. Particularly beautiful are the celebrations of San Benito in La Laguna, San Isidro in La Orotava and in Los Realejos and Garachico.
---
OTHER INFORMATION: The climate is ideal at any time of the year The island of the eternal spring is not just a slogan but a reality and there is a constant stream of visitors from foreing countries and mainland Spain during both winter and summer. Tenerife with its 3,000 hours of sun a year, its clean air and warm coastal waters make it an ideal spot to enjoy an unforgettable holiday.

---
FLORA AND FAUNA: The botanical garden situated near Puerto de la Cruz contains an interesting collection of plants. At Icod de los Vinos, located in the vineyard and fruit grove area, it is highly recommended a visit to the beautiful San francisco convent, its round Plaza de la Pila and its Drago park, with a thousand year old specimen. The Parque rural de Anaga (Anaga rural park) conserves a wealth of plant heritage dominated by the laurisilva. The island of Tenerife itself is like an enormous garden with a large variety of exotic plants and flowers. There are no harmful animals on the island.
---

WHAT TO EAT:
Canary Island cooking can best be described as good but basic. In the past only essential food products were imported due not only to the isolation of the islands, but also to economic factors. The islands do not have the terrain to mantain large amounts of livestock, although many varieties of fruits are grown. The local residents are happy with their standard diet and are seldom tempted to try the more international cuisine available in Indian, Chinese and indeed English restaurants in the large tourist centres. However, Italian cooking is quite popular. If you are cooking for yourself fish, meat, vegetables, fruit, bread and wine are cheap in comparison to other European countries. Tinned foods and drinks can be more expensive.
Local dishes:
Goats' cheese is often served along with Morcia, a typical Spanish black pudding which is distinctive in the Canaries by being sweetened with added sultanas. Salchicha or sausage is also a favourite and will normally arrive at your table flamed with lighted brandy. Garlic mushrooms is another dish often provided, and many bars and restaurants have hocks of ham hanging from the ceiling; these are called Jamon Serrano and slices are served as a complement to goats, cheese. A selection of local favourites is as follows: Rancho canario -Vegetable and meat stew. Gofio -A powdered barley or maize traditionally the staple food given to children at an early age. Gofio come in various forms, for example mixed into milk or coffe, mixed with chocolate and honey for the sweet tooth, aor added to soups and stews. Arroz con pescado-Fish and rice. Garbanzo Compuesto-Chick pea and potato stew. Beans and pulses are very popular in the islands. Meat dishes-Rabbit (conejo) is popular in the mountains and goat could be on the menu if you have the taste for it. More usual however, is chicken (pollo), steak (bistec), and pork chops (chuleta de cerdo). Fish-A wide variety of fish surround the islands. Most commonly eaten are squid (calamares) and octopus (pulpo). The good thing about fish restaurants is that one is invited to choose the fish from the kitchen and can therefore match shape an size to appetite without having to know the local names for the fish . Shellfish are particulary plentiful. Fish is normally served with papas arrugadas (potatoes cooked in their skins) and mojo sauce, again typical of the islands. The sauce comes in two varieties, red, which is very hot, and spicy and green, which is slightly less so. Portions are usually huge. An order for chicken results in complete half-chicken; chops and steaks are of cartoon-like proportions. Meat dishes are normally served with salad and chips.
---
[ Home | Canary Islands | NOSA | (www)Sea-Land Alumni page ]