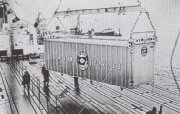 Historia de Sea-Land:
Malcom McLean, born in Maxton, N.C., started the container revolution, a new system safer, faster and cheaper which made possible global just-in-time manufacturing and division of labor.
---
1931 - McLean buys a secondhand pickup truck.
1950 - McLean Trucking company becomes one of the mosts successful transport organizations.
1955 - McLean Industries acquires a small tanker company called Pan Atlantic and adapted two of its decks adding a platform for trailers.
1956 - The Ideal X sails from Port Newark carriying 58 containers on deck for the first time.
1957 - McLean Industries converts some vessels to carry containers only. -- The first full-celled containership, The Sea-Land Gateway City, begins regular service between Ney York, Florida and Texas.
1960 - Pan Atlantic name changed to Sea-Land.
1963 - Sea-Land begins the first intercoastal service between the East and West Coasts of the United States.
1964 - The SS Anchorage breaks through the ice-cligged Cook inlet, bringing the first regular, dependable year-round service to the port of Anchorage.
1966 - Launches trans-Atlantic service, and soon the gray containers with the bright red logo are a familiar sight in the great cities of Europe.
1967 - Sets up port facilities at Saigon, Cam Rahn Bay, Da Nang and Que Nohn. Whith seven ships dedicated to Vietnam service, Sea-Land is able to carry 10 per cent of the supplies destined for Vietnam. The remaining 90 per cent required the service of more than 250 other ships.
1968 - Launches the first commercial, fully containerized service between Japan and the United States.
1969 - McLean Industries merged with R.J.Reynolds Tobacco Co.
1970 - Expands into five Mediterranean ports with weekly sailings to Cadiz and Barcelona, Marseilles, and Genoa; and Naples. The company also begins service to Korea.
1975 - Opens a container terminal at Algeciras, Spain. The terminal becomes the major link between the Mediterranean, Middle East and European services.
1978 - Starts the desing, operation and maintenance of Mina Jebel Ali, the largest port complex in the Middle East.
1979 - Begins container ship service to India.
1980 - Begins container ship service to China.
1986 - CSX Corporation buys Sea-Land.
1989 - The reefers fleet totals more than 14,000 containers after an invest of more than $150 million.
1990 - Agreements to pioner containerization in the Former Soviet Union.
1993 - The automated Delta Terminal in Rotterdam begins operations.
1995 - Consolidation of Sea-Land's headquarters and other management operations in Charlotte.
1996 - Sea-Land celebrates 40 years of transportation creativity.

---
Corporate Info:
SEA-LAND SERVICE, INC. Sea-Land is the largest U.S.-based ocean carrier, serving more than 100 seaports and transportation terminals in 80 countries and territories around the world. -- Sea-Land employs more than 8,000 people worlwide and produces annual revenues exceeding $ 3.5 billion. -- is rich in its 40-year heritage, strong in its core services and leader in global transportation industry. Sea-Land's mission is to provide reliable, quality services that meet our customer's needs. Put another way, we create transportation solutions that allow our customers to better serve their customers.

Services:
Since the changing global marketplace has created more challenges than a shipping company can handle, Sea-land has become more than just a shipping company. You can count on us for up-to-the-minute information., door to door shipments, and total logistics assistance in everything like multiple-port pickups to light assembly. -- Sea-Land is building on its reputation as a leader in personal service. Our sales and customer service teams around the world are dedicated to meeting your requirements. whatever the nature of your call - REFRIGERATED CARGOES, SAILING SCHEDULES, OCEAN RATES - Sea-land has a trained professional ready to answer questions and find solutions. -- Sea-land's innovative approach to managing customer documentation is another competitive advantage. from the bill of lading to the final invoice, our data specialists use customized information systems to deliver timely and accurate documentation for all your moves. -- Sea-land supplements its ocean services with a vast network of rail, truck and barge services that provide door-to-door delivery in many markets around the world. The company is a leader in cargo consolidation, warehousing and logistics management services.

Information technology:
With satellites in the sky, fiber-optic cables under the ocean and dedicated telephone lines around the world, we can give you the information you need on your freight when and where you need it. -- Our Information Resource Centers in Europe, Asia and the U.S. gather, store, retrieve and transmit information 24 hours a day, 7 days a week delivering more than one million messages each day between Sea-Land and our customers. So critical up-to-the-minute data like cargo status, routes and rates can usually be served up in seconds.

Information: Accurate, complete, instantly available, anywhere in the world. It's a key to your success - and ours - in the global marketplace. -- We operate a dedicated, around-the-clock , global communications network that meets the hihgest standards. -- And if you need something extra, like a payment to a customs office to release cargo, we'll send it there in a flash. The I-W@Y was Sea-Land strategy to make information management and technology a competitive difference in the future. But it's not just about technology. It's about us, the people of Sea-Land. Ultimately, we make the difference, not our technology.
---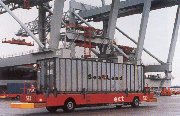 Port facilities:
Sea-Land developed the most advanced terminal infrastructure in the shipping industry. At many key locations worldwide, Sea-Land operated its own terminals rather than use public facilities, ensuring that its ships are worked afficiently and cargo moves quikly in and out of port. Sea-Land operated state-of-the-art container port facilities in critical hubs such as Elizabeth, New Jersey; Rotterdam, Holland; Hong Kong; Tacoma, Washington; Long Beach, California and Algeciras, Spain, to name a few. The container freight station in Hong Kong, the largest industrial building in the world, provided customers with highly efficient consolidation and warehousing services for trade in and out of Asia.

Historical highlights:
Sea-land invented oceanborne containerized shipping in 1956 when workers lashed a container to a vessel that sailed from Newark, New Jersey to Houston, Texas. -- In the late 1960s, the company launched the first regular container service across the Atlantic and the Pacific oceans, and into Latin America. -- That innovative spirit continues today, as Sea-land helps companies take full advantage of the global marketplace.
---

About CSX:
At CSX Corporation, we help companies take full advantage of the global marketplace. No other transportation company offers as wide a range of services as CSX. A Fortune 500 transportation company, CSX's unique combination of rail, container-shipping, barging, intermodal and logistics services provides global reach that's second to none. The company's goal, advanced at each of its business units, is to provide efficient, competitive transportation and related services for customers and to deliver superior value to CSX shareholders. Our holdings include:
CSX Transportation Inc., a major eastern railroad, provides rail freight transportation over a network of approximately 18,300 route miles in 20 states in the East, Midwest and South; and in Ontario, Canada
Sea-Land Service Inc. is the largest U.S.-based ocean carrier and a leader in the global shipping industry. Sea-Land operates a fleet of 98 container ships and approximately 200,000 containers in U.S. and foreign trade and serves 120 ports and operates 28 marine terminal facilities across its global network
CSX Intermodal Inc. provides transcontinental intermodal transportation services and operates a network of dedicated intermodal facilities across North America. CSXI runs more that 300 dedicated trains between its 33 terminals weekly; and, Customized Transportation Inc., one of the nation's leading third-party logistics providers, offering inventory management, distribution, warehousing, assembly and just-in-time delivery services.
CSX holds a 34 percent interest in American Commercial Lines, a family of marine companies providing a wide range of services to the shipping public and other inland waterway carriers. The company's non-transportation interests include: The Greenbrier, a Mobil Five-Star and AAA Five-Diamond resort in White Sulphur Springs, W.Va., the Grand Teton Lodge Company in Moran, Wyo., and CSX Real Property Inc., responsible for sales, leasing and development of CSX-owned properties. CSX also holds a majority interest in Yukon Pacific Corporation, which is promoting construction of the Trans-Alaska Gas System to transport Alaska's North Slope natural gas to Valdez for export to Asian markets. In 1997, CSX generated more than $10.6 billion in operating revenue.

As a premier provider of transportation services, CSX has the vision, the means and the will to create superior value for our customers ... and that is exactly what we intend to deliver.