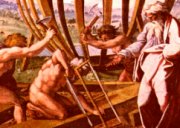 Quotations: The Bible and the sea:
There ariseth a little cloud out of the sea, like a man's hand.
I Kings ch.18, v.44
There be three things which are too wonderful for me,
yea, four which I know not:
The way of an eagle in the air; the way of a serpent
upon a rock; the way of a ship in the midst of the
sea; and the way of a man with a maid.
Proverbs ch.30, v.18
Of the Jews five times received I forty stripes save one.
Thrice was I beaten with rods, once I was stoned,
thrice I suffered shipwreck, a night and a day have I
been in the deep;
In journeying often, in perils of waters, in perils of
robbers, in perils by mine own countrymen, in perils
by the hearthen, in perils of the city, in perils in the
wilderness, in perils in the sea, in perils among false
brethren;
In weariness and painfulness, in watching often, in
hunger and thirst, in fastings often, in cold and
nakedness.
Beside those things that are without, that which
cometh upon me daily, the care of all the churches.
II Corinthians ch.12, v.24
And the sea gave uo the dead which were in it; and
death and hell delivered up the dead which were in
them: and they were judged every man according
to their works.
Revelation ch.20, v.13
And before the throne there was a sea of glass like
unto crystal: and in the midst of the throne, and
round about the throne, were four beasts full of eyes
before and behind.
Revelation ch.4, v.6
And I saw as it were a sea of glass mingled with fire.
Revelation ch.15, v.2
And I saw a new heaven and a new earth: for the first
heaven and the first earth were passed away; and
there was no more sea.
And I John saw the holy city, new Jerusalem, coming
down from God out of heaven, prepared as a bride
adorned for her husband.
Revelation ch.21, v.1
In the fourth watch of the night Jesus went unto
them, walking on the sea.
St Matthew ch.14, v.25
All the rivers run into the sea; yet the sea is not full.
Ecclesiastes ch.1, v.7
---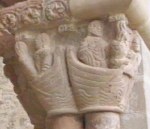 They that go down to the sea in ships: and occupy
their business in great waters;
These men see the works of the Lord: and his wonders
in the deep.
Psalm 107, v.23
O Lord, how manifold are thy works, in wisdom hast
thou made them all; the earth is full of thy riches.
So is the great and wide sea also: wherein are
creeping things innumerable, both small and great
beasts.
There go the ships, and there is that Leviathan: whom
thou hast made to take his pastime therein.
These wait all upon thee: that thou mayest give them
meat in due season.
Psalm 104, v.24
He divided sea, and let them go through: he made
the waters to stand on an heap.
Psalm, 78, v.14
God is our hope and strength: a very present help in
trouble. Therefore will we not fear, though the
earth be moved: and though the hills be carried into
the midst of the sea.
Psalm 46, v.1
His dominion shall be also from the one sea to the
other: and from the flood unto the world's end.
They that dwell in the wilderness shall kneel before
him: his enemies shall lick the dust.
The King of Tharsis and the isles shall give
presents: the kings of Arabia and Saba shall bring
gifts.
All kings shall fall down before him: all nations shall
do him service.
Psalm 72, v.15
Thou that art the hope of all the ends of the earth,
and of them that remain in the broad sea.
Who in his stregth setteh fast the mountains: and is
girded about with power.
Who stilled the raging of the sea: ad the noise of his
waves, and the madness of the people.
Psalm 65, v.5
In his hand are all the corners of the earth: and the
strength of the hills is his also.
The sea is his, and he made it: and his hands prepared
the dry land.
O come, let us worship and fall down: and kneel
before the Lord our Maker.
Psalm 95, v.4
When Israel came out of Egypt: and the house of
Jacob from among the strange people,
Judah was his sanctuary: and Israel his dominion.
The sea saw that, and fled: Jordan was driven back.
The mountains skipped like rams: and the little hills
like young sheep.
Psalm 114, v.1
If I climb up into the heaven, thou art there: if I go
down to hell, thou art there also.
If I take the wings of the morning: and remain in the
uttermost parts of the sea;
Even there also shall thy hand lead me: and thy right
hand shall hold me. Psalm 139, v.7
The floods are risen, O Lord, the floods have lift up
their voice: the floods lift up their waves.
The waves of the sea are mighty, and rage horribly:
but yet Lord, who dwelleth on high, is mightier.
Thy testimonies, O Lord, are very sure: holiness
becometh thine house for ever.
Psalm 93, v.4
---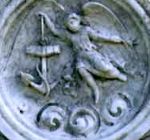 We therefore commit his body to the deep, to be
turned into corruption, looking for the resurrection of
the body (when the Sea shall give up her dead).
Forms of Prayer to be Used at Sea At the Burial of their Dead at Sea
That we may be ... a security for such as pass on the
seas upon their lawful occasions.
Forms of Prayer to be Used at Sea First Prayer
Be pleased to receive into thy Almighty and most
gracious protection the persons of us thy servants, and
the Fleet in which we serve.
Forms of Prayer to be Used at Sea First Prayer